THS

soccer suffers first loss since August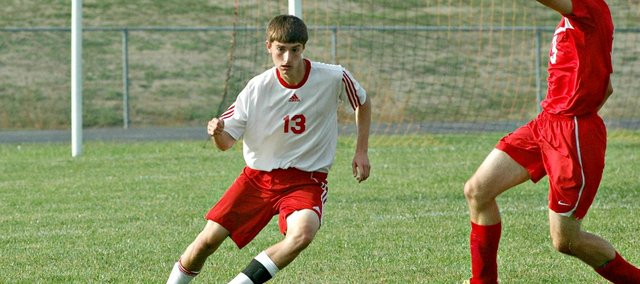 LHS 3, THS 1
First half scoring
Asher Huseman (TON), 31:11
Mason Ruff (LAN), 18:30
Ruff (LAN), 11:11
Second half scoring
Chase Hoffman (LAN), 20:54
It's been more than a month since the Tonganoxie High soccer team has had to recover from a loss. Following Monday's visit from Kaw Valley League opponent Lansing, though, the Chieftains will have to do just that.
THS (9-2-1, 5-1 KVL) took a 1-0 lead early in the game, but allowed three unanswered goals in a 3-1 loss — its first since its season opener on Aug. 24 at Baldwin.
"We tried to play Lansing's game and when you try to play somebody else's game, chances are they're going to be better at it than you are," coach Brian Kroll said.
Sophomore Asher Huseman put THS up early when he found the back of the net less than 10 minutes into the first half. His first shot attempt ricocheted off the hands of goalkeeper Briscoe Elliott, but the ball bounced back to Huseman, who got the ball by Elliott on his second attempt.
Lansing answered midway through the half when Mason Ruff headed a ball by Chieftain goalie Keaton Truesdell. Ruff gave the Lions the lead on a penalty kick with 11:11 remaining in the period, and the score remained 2-1 LHS at the break.
Chase Hoffman doubled Lansing's lead with 20:54 left in the game and THS failed to respond down the stretch.
The Chieftains struggled to get shot attempts all game, as the Lions kept the ball on the THS side of the field for the majority of both halves.
"For whatever reason, we just could not find a groove," Kroll said. "Awful would be a step up from where our touch was. We just couldn't find the ball at our feet. When the ball is not at your feet, there's not anything you can do with it."
The loss was the first for Kroll's squad in league play this season. The Chieftains can still clinch at least a share of the KVL title when they play host to Bishop Ward at 4 p.m. Thursday. They won in both of their meetings with the Cyclones last season.
"The game plan between now and Thursday is to get back to the basics and work on the fundamentals that win games," Kroll said. "For whatever reason, we're trying to be too difficult and create things that aren't really there. We just have to re-focus and start playing our game."