Chieftain volleyball sweeps Piper for third straight win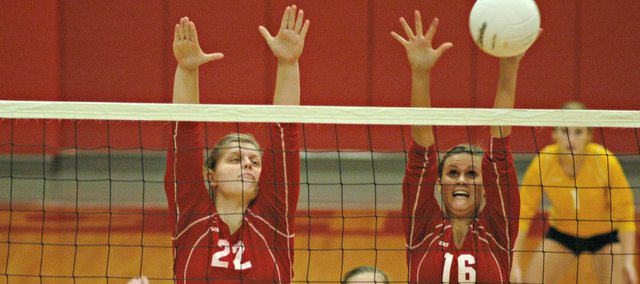 Photo Gallery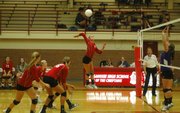 THS volleyball vs. Piper
The Tonganoxie High volleyball team picked up a Kaw Valley League win on Tuesday, defeating Piper in straight sets.
Following a string of tough outings and close finishes, the Tonganoxie High volleyball team is back on a win streak.
The Chieftains won their third straight match on Tuesday, defeating Kaw Valley League foe Piper in straight sets, 27-25, 25-11, 25-17. The win marked the second time THS (12-11) has swept the Pirates at home this season.
"We've really come around to playing with passion and playing with and for each other," coach Tiffany Parker said. "Just having that excitement around our team, we're pretty fun to watch right now."
The first set unfolded into a seesaw battle as both teams struggled to gain a substantial lead. Piper led 11-6 early on, but the Chieftains responded with an 11-3 run to go in front, 17-14. The Pirates scored the next three to tie the score and neither team led by more than two for the remainder of the set. The Chieftains scored three of the last four points to clinch the set.
THS led by just a point midway trough the second set, but reeled off a 12-1 run to take control. Piper couldn't recover as the Chieftains cruised to a 2-0 lead.
"I think we just got excited more," senior Madee Walker said of the Chieftains' surge. "We were cheering each other on, which gave us more momentum and encouragement to win the second one."
That momentum carried over into the third set, in which THS jumped out to a 16-9 lead. The Pirates stayed within arm's length, but Parker's squad gradually pulled away and capped off the sweep with a 6-1, match-ending run.
Senior Jenny Whitledge led the Chieftains with 13 kills and junior Marissa Martin added 14 digs. Whitledge and freshman Kaitlin Hall also did some damage from the service line, as each carded four aces.
Junior Katelyn Waldeier finished with four kills and two blocks, but Parker said the middle blocker's stats didn't necessarily reflect the intensity she brought to the match.
"I thought Katelyn Waldeier really came around," Parker said. "She was very competitive all night, so I was excited to see her step up and play well."
THS will have a few days off before it returns to the court on Saturday at the De Soto Spikefest. The Chieftains finished third in the tournament last season.