Late surge propels Chieftain soccer past Bishop Ward
THS

clinches share of league title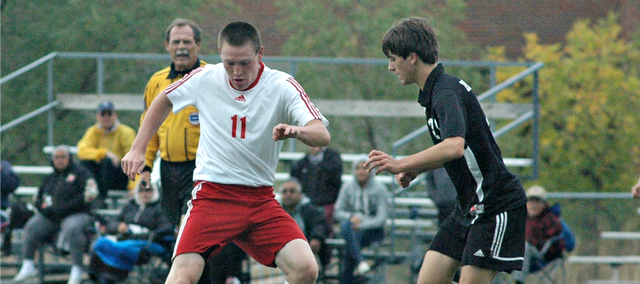 THS 2, BWHS 0
First half scoring
None
Second half scoring
Matt Saathoff (TON), 11:27 (John Lean assist)
Saathoff (TON), 4:07 (Asher Huseman assist)
Over the course of the its last two games — a tie and a loss — the Tonganoxie High soccer team has played what coach Brian Kroll calls "the opponent's game." The Chieftains got back to their own game in Thursday's meeting with Bishop Ward, and the results spoke for themselves.
Senior Matt Saathoff broke open a scoreless tie with a pair of second-half goals, which propelled THS to a 2-0 win against the Cyclones.
It looked as though overtime would be needed when the game was still scoreless late in the second half, but a pair of seniors hooked up to get the Chieftains (10-2-1, 6-1 Kaw Valley League) on the scoreboard. John Lean broke free down the sideline, which drew Bishop Ward goalkeeper Juan Calderon away from the goal. Lean fired a pass by Calderon to a wide open Saathoff, who tapped the ball into the net with 11:27 remaining.
"We were outplaying the heck of them, but we just needed to refocus," senior co-captain Zack Tallent said. "Once we got that first goal out of the way, it really opened up the doors to bigger and better things. You could tell the weight was off our shoulders."
THS put the game away when sophomore Asher Huseman crossed the ball to Saathoff, who beat Calderon in a one-on-one situation with 4:07 left.
Huseman, who suffered an injury on Monday against Lansing, didn't enter the game until the 9:16 mark of the second half. The pair of goals bring Saathoff's season total to 20. He has scored in all but two games this season.
Both teams had scoring opportunities in the first half, but neither could find the back of the net. THS had a chance to take the lead just before halftime, but a free kick by Saathoff ricocheted off a Cyclone defender in the final seconds.
"I told them at halftime that our one-touch distribution needed to start happening," coach Brian Kroll said. "Once we did that, we clearly took over the field. I'm not taking anything away from Ward — they play pretty good soccer — but that's it."
With the win, Kroll's squad clinches at least a share of the KVL title. The Chieftains could potentially finish in a three-way tie with Mill Valley and Lansing. In head-to-head meetings earlier this season, THS defeated Mill Valley, Mill Valley defeated Lansing and Lansing defeated THS. Mill Valley has one more league game on its schedule — an Oct. 17 contest against Bishop Ward — while Lansing plays Basehor-Linwood today and Piper on Oct. 11.
As a result of scheduling confusion, the Chieftains' game next week against Maur Hill-Mount Academy (Atchison) has been moved to Monday at home. The meeting was originally scheduled for Tuesday at Maur Hill. The varsity game is set for 4 p.m.