THS

football eyes victory tonight at Turner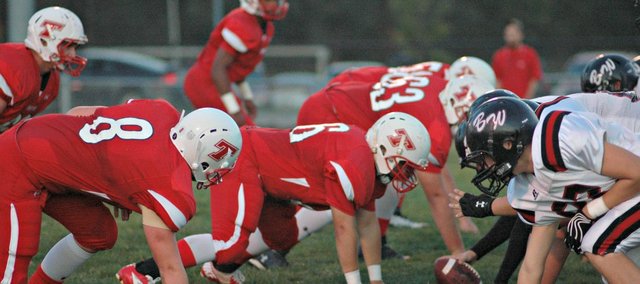 The way Al Troyer sees it, a high school football season is broken into three levels: league play, district play and postseason play. Troyer's Tonganoxie High squad has a little overlap from one level to the next, but can enter district play on a high note with a win tonight at Turner.
Troyer's squad can also earn consecutive wins for the first time this season following last week's 30-16 win against Bishop Ward on homecoming.
"It's always good coming off a win, but it's about being able to sustain that," Troyer said. "Turner has been playing well, so we'll have to be ready to play."
The Chieftains (2-3, 2-2 Kaw Valley League) will face a Golden Bear team that has won its last three games, including a 28-22 win last Friday at Basehor-Linwood. Quarterback Paul Berry led Turner (3-2, 3-2) with three total touchdowns — one passing, one rushing and one receiving — in the team's most recent victory.
Berry, a junior, enters tonight's matchup as the Golden Bears' leading rusher (517 yards) and passer (368 yards).
"He's real mobile," Troyer said of the Turner signal caller. "Last week, he threw one, he caught one and he ran for one. He's definitely somebody we've got to keep an eye on. They've also got some athletes in the secondary and at receiver, so we'll have to try and contain them."
Berry's favorite target have been Andre McCallup and Jeremy Jensen. The seniors have hauled in a combined 14 catches for 245 yards and three touchdowns.
THS will counter with a trio of juniors in quarterback Tyler Ford, running back Cole Holloway and running back/wide receiver Shane Levy. Ford threw for 317 yards and Levy racked up 173 receiving yards in the Chieftains' win last week against Bishop Ward. Holloway leads the team with 517 rushing yards and three touchdowns.
The Golden Bears have won each of their last two meetings with THS, including a 36-6 victory last season at Beatty Field. The Chieftains will begin district play next week at Perry-Lecompton, so Troyer emphasized the importance of remaining in the win column.
"We want to cap off the first level," Troyer said. "Our district is wide open. It's anybody's game right now; everybody is 0-0. It doesn't matter what you did the last six games, so a win for us would be a good slingshot into district."
Kickoff is set for 7 p.m. at Turner Stadium.