THS

soccer blanks Maur Hill at home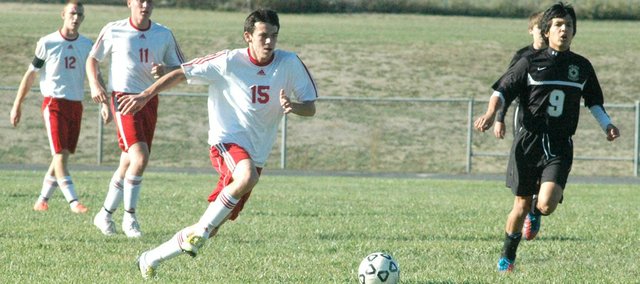 THS 6, MHMA 0
First half scoring
Asher Huseman (TON), 12:43 (Matt Saathoff assist)
Saathoff (TON), 8:53 (John Lean assist)
Huseman (TON), 5:20 (Saathoff assist)
Second half scoring
Huseman (TON), 37:56
Tyler Novotney (TON), 22:55
Saathoff (TON), 21:46
Photo Gallery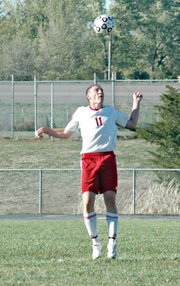 THS soccer vs. Maur Hill
The Tonganoxie High boys soccer team handed Maur Hill a 6-0 defeat Monday at home.
The last time Tonganoxie and Maur Hill-Mount Academy squared off on the soccer field, the Chieftains left with a season-ending, 5-4 loss that included 30 minutes of overtime and double-digit penalty kicks.
When the Ravens paid a visit Monday to THS, coach Brian Kroll figured the heartbreaking loss might have been a little too fresh in his players' minds. That may have been the case early, but once the jitters were gone, all doubt was erased in a hurry.
THS got a hat trick from sophomore Asher Huseman and cruised to a 6-0 victory, improving to 11-2-1 on the season.
The Chieftains had scoring opportunities early on, but came up empty on several early chances. Huseman, who now has 18 goals this season, broke through when he beat the defense and got the ball past the goalkeeper with 12:43 left in the first half.
Senior Matt Saathoff doubled the lead less than four minutes later when he scored on an assist from fellow senior John Lean.
"It's about breaking down that wall," said Saathoff, who scored two goals to bring his season total to 22. "Once you get past it, you just get in the right mindset. After that, it's a lot easier."
Saathoff got a free kick opportunity later in the half and found an open Huseman in front of the net. Huseman caught the goalie out of position and punched it in with 5:20 left until halftime.
The THS defense shut down the Ravens for the remainder of the period to keep the score at 3-0.
"I think everyone was a little tense and up-tight because it was Maur Hill," Kroll said. "They were just nervous. We were getting past their defense like crazy, and once we finished and punched one through, it all pieced together real well."
Huseman scored his third and final goal less than three minutes into the second half. Freshman Tyler Novotney got in on the action with a goal of his own midway through the period, then Saathoff capped off scoring with 21:46 remaining.
Senior goalkeeper Keaton Truesdell recorded his second shutout in as many games. He now has four this season.
"I would say Keaton is really in the zone right now," Kroll said. "I always preach to all of the kids from day one 'hey, you've only got this many minutes left,' and I think it's actually sitting in with him. He's down to the final two games of his high school career, and anything after that is a bonus."
The Chieftains will travel Thursday to Bishop Ward. They handed the Cyclones a 2-0 defeat last week at home. Since the teams have already played this season, Thursday's contest will not affect the Kaw Valley League standings.