Celebrating a century of life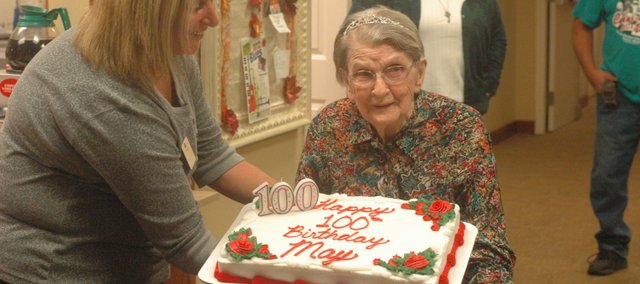 May Stiglmire might have found the secret to a long life.
The Tonganoxie resident said she couldn't start a day without a cup of coffee. And to get that cup of joe, she has to take a stroll from her room at Vintage Park Assisted Living down the hall to the building's dining area.
On Thursday, she celebrated her 100th birthday with family and fellow Vintage Park residents.
"I've never been sick," Stiglmire said. " And that's why I'm still hanging around."
She also noted that both her parents lived into their 90s.
"I'm just lucky I guess," she said.
She's also limber at the century mark. Before the party, sitting among family members in her room, a seated Stiglmire showed how she could bring her knee in line with her chin. Her right knee bent, she rested her heel on the chair.
Before moving to Tonganoxie about three years ago, Stiglmire lived in the Basehor area. She graduated from Lansing High School in 1930, but "didn't get to go to college."
After high school, she married Carl Stiglmire and had three children.
"In that order," joked granddaughter Mary Williams of Olathe.
When May and Carl got married, she said they had $100 and a team of mules. Williams recalled asking her grandparents some years ago what it was like to live during the Depression.
"We were always depressed," Williams recalled her grandmother say. "We didn't really know a difference."
She and her late husband farmed for several years and sold produce from their garden.
Thursday afternoon, fellow residents celebrated with Stiglmire and her family at Vintage Park with a birthday cake and refreshments.
Activities director Jennice Baragary presented Stiglmire with a large poster that read "Happy 100 birthday May," with 100 spelled out with 100 Hershey's Kisses.
Residents also helped Baragary make a money tree — a branch painted gold with 100 $1 bills hanging from it. She said the roughly 40 other residents at Vintage Park pitched in a dollar or more each to come to $100. Red ribbons also were tied to the "tree."
Stiglmire told Baragary her favorite color was red "because her husband always whistled at her when she wore red," Baragary said.
During Thursday's celebration, a quartet of Tonganoxie High School vocalists — Jacob Casselman, Jonathan DuVall, Halston Field and Chris Tiner — sang "Happy Birthday" to Stiglmire.
Williams, who is a teacher at Meadow Lane Elementary School in Olathe, had students write notes to her grandmother about what they would do if they lived to be 100.
One student wrote about having grandbabies at 100, while another talked about having "wrinkls" and being an "Artest."
Others family members at the gathering were Stiglmire's daughter and son-in-law, Florence and John Pouppirt of Basehor, and granddaughter Debra Eaton, who traveled from Visalia, Calif., for the birthday.