Chieftain volleyball bounces back with win at Bishop Ward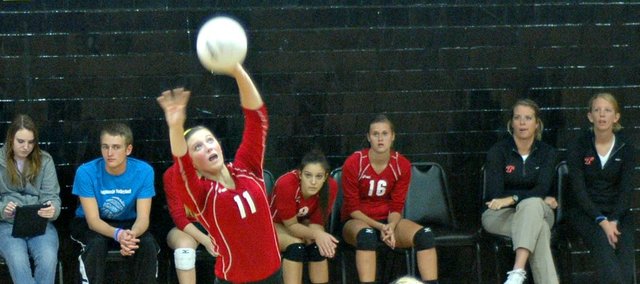 Photo Gallery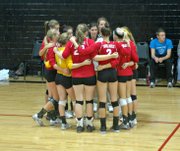 THS volleyball at Bishop Ward
The Tonganoxie High volleyball team improved to 3-3 in Kaw Valley League play on Tuesday with a win at Bishop Ward.
Kansas City, Kan. — Following a forgettable performance Saturday at the De Soto Spikefest, the Tonganoxie High volleyball team was more than a little eager to rediscover the taste of victory. As it turns out, it only took three days to accomplish that feat.
The Chieftains got back into the win column on Tuesday with a win at Kaw Valley League opponent Bishop Ward. THS (13-15, 3-3 KVL) defeated the Cyclones in straight sets, 25-22, 25-18, 25-20.
"It definitely feels great being back on top," senior Jenny Whitledge said. "After a hard beating last weekend, it feels good to get a win under our belt."
It looked like the Chieftains would cruise in the first set when they jumped out to an 20-10 lead, but Bishop Ward had other plans. The Cyclones reeled off a 12-4 run to get within three, but THS slammed the door on its fourth set point opportunity to take a 1-0 lead.
Bishop Ward came out firing in the second set and quickly gained a 9-1 advantage. Coach Tiffany Parker's squad slowly started to chip away at the deficit, though, and eventually drew even at 16-16. They didn't back down from there, as they went in front 2-0 thanks to an 8-0, set-ending run.
"For us, right now, everything is a learning curve," Parker said. "When we're down, it's obvious that we're not playing with a whole lot of passion. As soon as I challenged them, they started to really respond. It's almost like they needed a shot in the arm. They really turned around."
The game of runs turned into a back-and-forth affair in the third set, as neither team could establish control. The Chieftains finally found a rhythm late in the set, using a 5-0 burst to grab a 22-18 lead. Bishop Ward answered answered with back-to-back points.
The Cyclones seemingly got within one on the next point, but officials ruled Kylie Jones went over the net on her kill attempt, so the point was awarded to THS. The Chieftains scored the next two points to cap off the sweep.
Whitledge enjoyed a solid all-around performance with 12 kills, 11 digs and four service aces. Junior Marissa Martin had a team-high 14 digs and Madee Walker led THS with 2.5 blocks. As a team, the Chieftains recorded 30 kills, which, according to Parker, was a product of a strong showing by freshman setter Lauren Jackson.
"Jackson had a great night," Parker said. "She put a lot of balls in great hitting positions. We had a lot of kills tonight. She was real aggressive, so I'm glad to see that coming out of her now."
THS will be back at Bishop Ward on Thursday for a triangular with the Cyclones and Baldwin. The Bulldogs and Chieftains split their first two meetings this season.