Congregations rethinking 'church'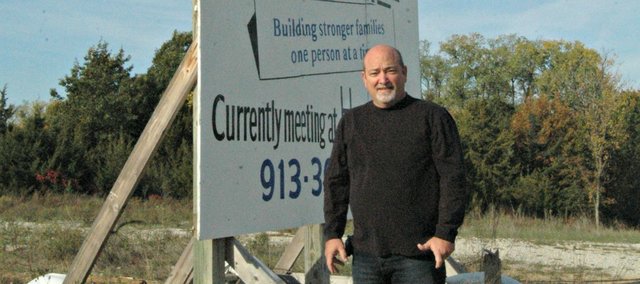 Do you believe in God?
When Gallup asked Americans that question last year, 92 percent said yes — only 4 percent fewer than in 1944.
"People don't have a problem with God," the Rev. Johnny Lewis, pastor of Shawnee Park Christian Church, said. "People have a problem with the institutional church, the fact that we have made it about budgets and buildings, not what it's supposed to be about: changing lives."
Other area clergymen interviewed about church attendance and giving trends had different opinions about their causes. But there's no debating the fact that, nationally, trend lines are down, prompting congregations like Shawnee Park Christian to rethink church.
Here's what churches are facing:
• Only 40 percent of Americans consider religion an important part of daily life and attend religious services regularly, according to a 2012 Gallup poll. Thirty-two percent seldom or never attend.
• Total membership reported among North America's 25 largest denominations was down another 1.15 percent last year, according to the 2012 Yearbook of American & Canadian Churches.
• The continent's largest denomination, Catholicism, declined 0.44 percent to 68.2 million members, and mainline Protestant churches continued decades-long declines. The largest of them, the United Methodist Church, reported 7.7 million members after losing another 1.22 percent.
• The Southern Baptist Convention, the largest U.S. evangelical church, reported a 0.15 percent decline to 16.1 million members. But many evangelical churches are thriving, including Assemblies of God, up 3.99 percent, and Pentecostal Assemblies of the World, up 20 percent.
• Giving by 45 million members at churches reporting financial information for the 2012 Yearbook totaled $29 billion last year, down $1.2 billion.
Mainline crossroads
The First United Methodist Church of Baldwin City is emblematic of mainline Protestant churches weathering decline.
Baldwin City has long been thought of as a Methodist town because of its affiliation with Baker University, founded there in 1858. But the Rev. Paul Babcock, named pastor at First UMC about a year ago, said Annunciation Catholic Church surpassed his church in membership a few years ago.
"We now have about 400 members," Babcock said of his church, one of two UMC congregations in Baldwin City. "At the time this building was built in 1932, membership here was about 1,000."
In the wake of membership decline and recession, the church's revenue lagged the budgeted amount by $15,000 for the first five months of this year.
"But we are still paying the bills," Babcock said, "And our membership has actually grown a little since I started here."
To attract more college students — part of the 18- to 29-year-old group of which only 18 percent attend church regularly — First UMC has begun mixing in more contemporary hymns, addressing real-life issues from the pulpit, and living by its welcoming statement, which embraces all ages, races and sexual orientations, Babcock said. It also has put more emphasis on community outreach through programs like its food pantry.
But it's clear mainline churches will have to do more; they just haven't figured out what yet, he said.
"Everyone 500 years or so, the church goes through something like a gigantic rummage sale," Babcock said. "And when that kind of a deal is going on, we have to ask, 'Which way are we going to go?' We need to do some deciding."
Rethinking church
At Shawnee Park Christ, lots of deciding has been done.
The 30-year-old church, which added a new sanctuary 10 years ago, at one point was diverting 53 percent of what went into the offering plate to bricks and mortar, the Rev. Lewis said.
"The pressure to pay for that building made it difficult to do ministry and to invest in changing lives," he said. "And people were tired of making church about a building."
So in June 2011, the congregation began a yearlong process of rethinking itself. And in the end, members decided to start over, on Sept. 23, as a new church with new ideals.
Members envisioned a church that would welcome all — "black, white, gay, straight, Republican, Democrat" — in a more casual, modern worship environment, where real-life issues would be addressed and tough questions wouldn't be discouraged, Lewis said.
"A lot of churches tell people everybody's welcome but then hand them a menu of everything you have to believe, and if you don't like it there's the door," he said.
Besides focusing less on dogma, Shawnee Park members want to focus more on making a difference in their community and world. And toward that end, the congregation voted nearly unanimously recently to put the church's property on the market and to sell all or part of it if that's what it takes to do more for the poor, hungry and others in need.
Selling might entail a move to rental space. But that's not to say the congregation is planning to downsize. To the contrary, Shawnee Park's average worship attendance, now about 130, has increased during the past couple of years, Lewis said, and giving is up, as well. But according to assessments by the church and the Disciples of Christ denomination it is part of, "decline was right around the corner if we didn't make some changes," Lewis said.
Change vs. constancy
Lewis said churches have always needed to change to remain relevant to the cultures they exist in.
But the Rev. Mike Bronson, pastor of the West Haven Baptist Church in Tonganoxie, said the growth of evangelical churches reveals that many are swinging back toward that which doesn't change.
"People today are hungry for the truth," said Bronson, whose church is affiliated with the Southern Baptist Convention. Part of the evangelical movement, Southern Baptists emphasize the need for "born again" conversion and a high regard for biblical authority.
Thus Bronson, whose church has witnessed 10 percent attendance growth during the past two years, isn't concerned about the future of organized religion.
"Clearly, the Bible teaches that the church is central to the theology of Christ's redemption of the world," he said. "God calls people together in individual communities to spread his message."
So that's what they do at West Haven, Bronson said, adding, "We just preach Christ and trust the results to him."
Among the results has been "an awakening to the great needs of the poor," he said, echoing sentiments behind expanding outreach efforts among several denominations. The Southern Baptists now operate the third largest relief organization in the world, behind the Red Cross and Salvation Army, he said.
The outreach imperative
"If you have a church that's serving people in the name of Jesus Christ with a loving attitude, it makes a difference," said the Rev. Jan Todd, pastor of Bonner Springs United Methodist Church.
When Todd came to the church just over a year ago, it was struggling financially and average worship attendance, now about 220, had drooped to around 120.
In response, the church replaced its associate pastor with two half-time, college-age youth directors. In addition, it got more involved in the community and encouraged members to get more involved in the church.
"Our worship spaces need to be more public spaces," Todd said, referring to the many Scouting and other groups that now meet inside the church.
Outside, Bonner Springs UMC has started up a community gardening program, through which members donate 10 percent of their harvest. That's been more than 800 pounds this year.
The church also has made special efforts to reach the under-30 crowd, said Todd, who preaches in jeans during contemporary services featuring guitars and video projections.
But while such measures can grow individual UMC flocks, she added, little can be done about one of the primary reason's for the denomination's U.S. decline: location.
Location matters
After the Revolutionary War, the Methodist church began establishing churches "in every single town," Todd said.
"So here's all these established churches in all these little towns, many of which are drying up," she said. "There's no way they're going to grow in attendance."
Shawnee isn't dwindling. But Michael Penikis, associate pastor of Hope Lutheran Church in Shawnee, said that church's fortunes have been tied to its preschool through eighth-grade school, which has been losing enrollment because of aging neighborhoods around it.
Older congregations tend to favor an emphasis on the basics of old-time religion: preaching, teaching and music. Toward that end, Hope Lutheran recently purchased a new Pasi Opus 21 pipe organ. It also completed sanctuary and stained glass window renovations during the previous couple of years.
Duane McCracken, pastor of the First Baptist Church in Basehor, said his evangelical church also has made recent structural improvements. And it started streaming live online video of services in January to better reach the young, hospitalized and homebound.
The God factor
But McCracken doesn't attributes the doubling of his church's average worship attendance, to 206, over the past five years to those changes.
"I attribute it to the work of God," he said, adding that, "Our methods change, but our message doesn't. We just preach God's word and try to do it in a loving manner, knowing that you can't please everybody. For instance, the Bible says, from Genesis to Revelation, that marriage is between a man and a woman."
Like McCracken, the Rev. Ron Swaim of Cornerstone Family Worship in Tonganoxie also credits the growth of his Assemblies of God congregation to the fact that "we've found some favor with God."
Having outgrown its previous location, Cornerstone began meeting a year ago in the performing arts center at Tonganoxie High School, where attendance averages about 200. In the spring, the church plans to break ground on a new $1.5 million church that will seat 450, with lots of overflow space.
"In other nations, evangelical churches are growing like crazy, changing lives, cities and countries," Swaim said. "The bottom line in this country is that people just don't need God, or they don't think they do. But I see the church becoming more relevant. The worse things get in our economy and our world, the more people are going to be looking for the truth."