THS

football opens district play tomorrow at Perry-Lecompton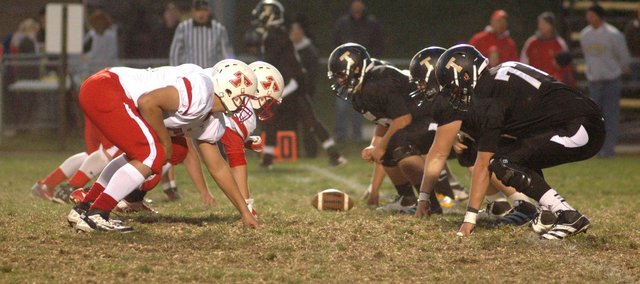 DISTRICT OUTLOOK
This week's games
Tonganoxie (2-4) at Perry-Lecompton (2-4)
Basehor-Linwood (3-3) at Jeff West (3-3)
*All teams currently 0-0 in district
As far as high school football games go, the last six weeks haven't meant much. Sure, there was league positioning and bragging rights at stake, but starting tomorrow, the stakes will officially be raised.
District football has finally arrived.
Tonganoxie has seen its fair share of tough opponents this season. The Chieftains have experienced ups and downs en route to a 2-4 record. Perhaps it's fitting that they'll see a team with a similar story in Friday's Class 4A District 2 opener at Perry-Lecompton. The teams enter the meeting with identical records and, of course, identical postseason goals.
"Any time you go to a new level, you've got to bring a little bit more," coach Al Troyer said. "The way I look at it, it's two evenly-match teams. It's going to come down to heart and who wants it the most."
THS enters the game after a 32-13 loss last week at Turner. The Chieftains led early, but a long touchdown pass just before halftime and a fumble near the end zone proved to be the difference in the game. PLHS, on the other hand, picked up a 36-22 win against Royal Valley in its last action.
The Kaws' offensive unit has done damage on the ground, as well as through the air this season. Sophomore quarterback Seth Surface has thrown for 737 yards and seven touchdowns in six games. His favorite target, senior receiver Riley Davis, has 22 catches for 332 yards and four scores. Junior R.J. Whitaker has led the rushing attack with 68 carries for 386 yards and five touchdowns.
Whitaker had a solid game last week, rushing for 165 yards and three scores.
The PLHS defense has allowed 22 points or less in all but one game this season, which could spell trouble for a Chieftain squad that has averaged just 13 points per game in 2012.
"Defensively, they're pretty strong up front," Troyer said. "They're a well-coached ball club and their technically sound. They run the ball well. Their fullback is a good athlete and they've got a good tight end and good receivers."
Just as they've done all season, juniors Cole Holloway, Tyler Ford and Shane Levy will lead the THS offensive attack. Holloway leads the team with 633 rushing yards and seven touchdowns. His 118-yard performance last week marked the third time he's gone over 100 yards this season.
Ford has thrown for 644 yards — 440 in the last two games — and three touchdowns. Despite missing a game this season, Levy leads the Chieftains with 24 catches for 397 yards and a score.
"We're going to try to take what they give us," Troyer said of his squad's offensive game plan. "We've got some multi-facets in the backfield that we can do. We're spreading the ball around. We're pretty much at full strength, and that's where you want to be coming into district."
The THS defense will look to build on its performance in last week's game, in which it forced two turnovers and allowed just 13 points in the second half.
Tomorrow's kickoff is set for 7 p.m. The Kaws handed THS a 54-7 loss last season at Beatty Field.