THS

can't find offense in loss to Kaws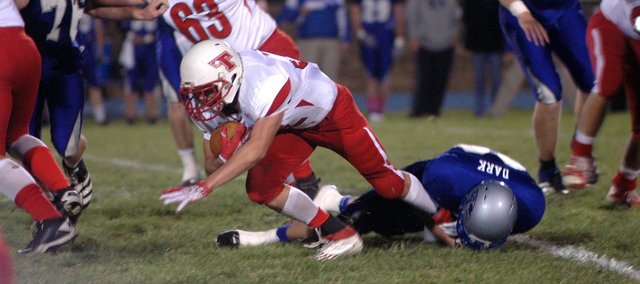 Perry — Tonganoxie High found ways to stop the opposing offense, it found ways to take the ball away and it found ways to move the ball down the field. Unfortunately, tough, it couldn't find ways to get into the end zone.
The Chieftains forced four turnovers — three in the first half — but couldn't convert them into points in a 30-0 loss in Class 4A District 2 action Friday at Perry-Lecompton.
THS (2-5, 0-1 district) ended three of the Kaws' first four drives when it forced and recovered fumbles. However, the Chieftains struggled to set up scoring opportunities, as their first four drives ended with punts. They had six first downs in the first half, but managed just 86 yards before intermission.
"That was big," coach Al Troyer said. "We won the turnover battle, but we didn't get any points. We were close. Our kids fought hard. We're right there, but we just need to get over the top."
PLHS (3-4, 1-0) broke through just before halftime on a 29-yard touchdown run by Brandon Eddy. Quarterback Seth Surface found tight end Matt Logan for the two-point conversion, which gave the Kaws an 8-0 lead at the break.
Eddy, who ran for a game-high 171 yards, scored again on a 19-yard run late in the third quarter to make it 14-0 Kaws. PLHS scored twice more in the final period — first on an 18-yard pass from Surface to Riley Davis, then on a 78-yard run by Eddy.
Eddy, who also hauled in two catches for 25 yards, made the Chieftains pay with several big runs which appeared to be stuffed near the line of scrimmage.
"When we hit him up at the line, then he bounces off and takes off for a long run, that hurts," Troyer said.
Surface completed 12 of 16 pass attempts for 140 yards. The Chieftains, who were shut out for the third time this season, were outgained by a 423-210 margin. Junior Cole Holloway accounted for nearly two-thirds of the Chieftains' offensive production, carrying the ball 24 times for 139 yards.
Holloway nearly broke free on several occasions and didn't have much trouble picking up chunks of yards early, but untimely penalties halted numerous drives. Once the Chieftains got down by three scores late in the game, they were forced to abandon the running game and the offense sputtered.
THS will look for its first district victory on Friday when it plays host to Jeff West at Beatty Field. The Tigers handed Basehor-Linwood a 13-8 loss Friday to improve to 1-0 in district play.
"I believe in these kids and I know they're going to come out and fight until the end," Troyer said. "Whether we win or lose, we're in this because we love this game. These kids are going to come out and fight as hard as we can and we're going to try to get one at home."
This week's action will also mark the final home game for seniors Brett Shelton, Tyler Zinser, Cody Saladin, Ty Barton, Gus Dent and Thomas Miller.
Score by quarters
Tonganoxie 0 0 0 0 — 0
Perry-Lecompton 0 8 6 16 — 30
Second quarter
PLHS — Brandon Eddy 29 run (Matt Logan pass from Seth Surface), :53
Third quarter
PLHS — Eddy 19 run (run failed), 4:22
Fourth quarter
PLHS — Riley Davis 18 pass from Surface (R.J. Whitaker run), 7:58
PLHS — Eddy 78 run (Logan pass from Surface), 4:21
Rushing
THS: Cole Holloway 24-139, Shane Levy 5-15, Jared Sommers 1-3, Tyler Ford 10-minus-24; PLHS: Eddy 19-171, Whitaker 9-54, Conner Harden 9-37, Surface 3-19, Taylor Spencer 1-2.
Passing
THS: Ford 13-29-1 77; PLHS: Surface 12-16-0 140.
Receiving
THS: Levy 7-59, Brett Shelton 5-16, Sommers 1-2; PLHS: Davis 6-61, Trevor Dark 3-44, Eddy 2-25, Logan 1-10.