McLouth blows by Oskaloosa, now 2-0 in district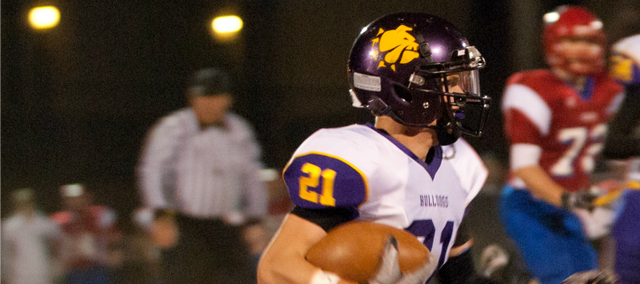 Another Friday, another district victory for the McLouth High football team.
MHS improved to 2-0 and remained atop the Class 2-1A District 2 standings with a 51-6 victory against Delaware Valley League rival Oskaloosa. The Bulldogs (6-1, 4-0 DVL) took control of this one early, racing out to a 38-0 lead at halftime.
Senior Dakota Cop scored the only touchdown of the first quarter on a 19-yard run, then added a two-point conversion to make it 8-0. Oskaloosa (2-5, 1-5) got into scoring position on its first drive, but the Bulldogs ended the threat with an interception in the end zone.
"Defensively, we struggled a little bit on the first two or three series, but they have a pretty good offense and they run it really well," coach Chris Stewart said. "The first series, they came down and drove it pretty much the length of the field, but our kids responded. After that, we handled it a little bit better on defense."
Stewart's squad took complete control when it reeled off 30 points in the second quarter. Junior Drew Cerny opened the period with a 44-yard touchdown run, Cop added a four-yard score and hauled in a 46-yard touchdown pass from senior Marc Walbridge, then Walbridge hooked up with Cerny on a 65-yard strike.
Walbridge, who went a perfect 6-for-6 passing with 185 yards and three scores, threw a 20-yard touchdown pass to junior Nick McAferty in the third quarter. The Bears got their only points on a one-yard run by Seth Steward in the final period, but sophomore Kevin Gann closed out scoring with a 57-yard touchdown run — his first score of the season.
When the clock hit zero, McLouth had racked up 489 yards of total offense. Cop led the rushing attack with 104 yards on seven carries, while Cerny and Gann added 88 and 68 yards, respectively.
"Both running and passing worked out pretty good for us," Stewart said. "We've got enough players that I expect all of them to get some touches and do something with them."
The Bulldogs can take sole possession of first place in the district standings when they travel Friday to Valley Falls. The Dragons (4-3, 3-3) are currently 2-0 in district play with wins against Oskaloosa (38-12) and Immaculata (44-8).
"This is probably the biggest game we've had all season," Stewart said. "Valley Falls is playing really well, and I know that Coach (Ron) Bunde has them ready to go."