THS

volleyball can't overcome errors in loss to Braves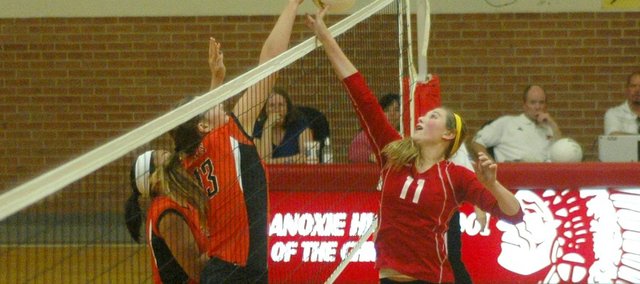 For most of the night, Tuesday's regular season finale was well within reach for the Tonganoxie High volleyball team. When it was all said and done, though, THS ended up being its own worst enemy.
The Chieftains held a 2-1 advantage after three sets, but couldn't overcome an mistake-filled performance in a five-set loss to Bonner Springs on senior night, 25-21, 21-25, 25-16, 22-25, 9-15.
With the loss, THS finishes the regular season at 16-17 overall at 3-4 in the Kaw Valley League. By the end of the match, coach Tiffany Parker's squad had committed 57 total errors, including 17 on serve attempts.
"A lot of the points they got were off of our errors, whether they were passing, serving, hitting or blocking," Parker said. "We gave up a lot of points tonight."
Things started out favorably when THS sprinted out to an 11-2 lead in the first set, but the Braves answered with an 8-1 surge to get within two points. The Chieftains didn't relinquish the lead, though, and held on to win the set. A seesaw battle unfolded in the second set, as both teams struggled to gain any sort of advantage. Bonner Springs used a late 5-1 run to take a 19-16 lead and later won the set to tie the match.
The Chieftains bounced back in the third set, in which they scored four of the first five points and didn't allow the Braves any sort of rally opportunity. However, the roller coaster night continued in the fourth set, as Bonner Springs used an 8-2 run to erase a late Chieftain lead and force a fifth set.
THS won the first three points of the final set, but the Braves took control with a 6-1 run and never gave up the lead. The win was the ninth for BSHS in its last 11 matches.
"I give (Bonner Springs) a lot of credit," Parker said. "They've come a long way this season. It's all a tribute to their coach. I used to play for coach (Jan) Madlock, so I know she's got them going the right way."
In their final regular season action, Chieftain seniors Jenny Whitledge and Madee Walker led the team with 22 and nine kills, respectively. Whitledge now has 387 kills this season, while Walker has added 138.
Statistics aside, Parker admitted both seniors will leave tough voids to fill for multiple reasons.
"Obviously, Jenny's athleticism and how she can take over a match, that's huge," she said said. "That's going to be hard to replace. We're going to miss her a lot next year. Madee has had a great season, too. Just that supportive attitude out of Madee is what we're going to miss a lot. We've got big shoes to fill next year."
The Chieftains will play host to seven teams for Saturday's Class 4A sub-state tournament. In addition to the Braves, other teams in the field are De Soto, Eudora, Sumner Academy, Basehor-Linwood, Bishop Ward and Piper.
Sub-state action will begin at 2 p.m. Tournament seeds will be announced Wednesday by the Kansas State High School Activities Association.
"As I told the girls after the match, the only thing we can do now is learn from it," Parker said. "They learned that we've got to come in the next three days and work our tail off. The only thing we're guaranteed is one match Saturday. I have a lot of girls who would like to play more than that, but all that depends on how hard we practice the next three days."