Chieftain soccer seniors reflect on successful run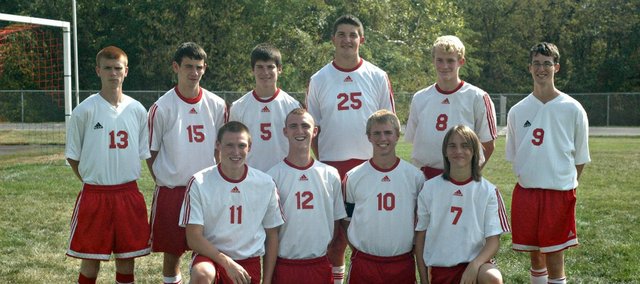 When the Tonganoxie High soccer team takes the field Thursday against Leavenworth, the team will be one step closer to the end of perhaps the most successful four-year run in school history. However, the orchestrators of that run — 11 members of the 2013 graduating class — hope the journey is still far from its end.
Thursday's action against the Pioneers will mark the final regular season game for Keaton Truesdell, Matt Saathoff, Zack Tallent, Jared Colgrove, Jeremy Fox, John Lean, Luke Faherty, Dallon Price, Connor Kietzmann, Wyatt Fesmire and Jonathan Duvall. That group has played a role in 33 victories since 2009. Included in that stretch are the team's first-ever playoff win, three trips to the regional finals, one trip to the state quarterfinals and, most recently, the program's first Kaw Valley League title in 15 years.
With a 2012 state bid well within reach, though, the entire list of accomplishments seems to pale in comparison. At least that's how Tallent sees it.
"It's kind of weird since (Thursday) is our last regular season game, but we know we're going to play here again," said Tallent, a third-year co-captain. "We understand it's our last time, but we also understand there's an ultimate goal. I think our mindset should be the same. We'll go into it with the same mentality."
The seniors will be honored following Thursday's 4 p.m. varsity game, but it won't be the last time THS takes its home field in 2012. The Chieftains' 12-2-1 record has assured them a high seed in regionals, which means they'll be at home for their postseason opener.
Nonetheless, the arrival of senior day has brought back memories for several players, including a fourth-year starting goalkeeper in Truesdell.
"It's the last game of your senior year," said Truesdell, who has recorded four shutouts in his final season. "You'll never get it back. It's completely different than when you were a sophomore or junior. Our freshman year, the seniors set the bar pretty high. We had a pretty good season, so we saw how to do that. We just want to get better every year."
Perhaps its fitting that members of Truesdell's class will play their final regular season game against the man who coached them as freshmen. Leavenworth coach Ken Lott was the THS coach in 2009, a year in which the Chieftains went 7-9-2 and won their first regional game as an all-boys team.
Current THS coach Brian Kroll took over the program the next season, and the Chieftains have been a force in the postseason ever since. They've been to the regional championship each of the last two seasons, going 1-1 in games that both advanced to penalty kicks.
Last year's 11-6-1 campaign ended in the state quarterfinals, but this year's seniors have much bigger things in mind this year — namely an appearance in the state tournament Nov. 2-3 at Piper.
"I'm fired up about it. We're wanting to go out there and show other teams what we're really made of," said Saathoff, who has scored a team-high 23 goals this season. "Having fun is the most important thing, but at the same time, we've got to work as one unit and give it all we've got. It's our last chance in high school."
Regional pairings will be announced by the Kansas State High School Activities Association following a seeding meeting on Oct. 20.
Although there is still the possibility of several more games this season, Kroll wasn't short on kind words when asked about the progression of his seniors — a group he first coached as an assistant under Lott in 2009.
"Watching them grow into men, it's been a blast," Kroll said. "To focus on one particular thing with them, I would just say watching kids play together year in and year out, that's reflective of what kind of group they are. Are we the best soccer team? No, we're not. Are we the best group of kids? Absolutely."
The Chieftains have the chance to rewrite another page in the school record books before the start of regionals. A win Thursday would tie the school record for most victories in a season, previously set by the 1997 squad (13-4-2).