THS

,

MHS

volleyball learn sub-state seeds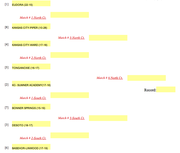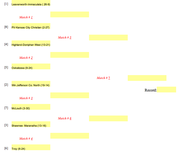 Volleyball teams across the state have learned who they'll meet on their potential roads to the state tournament. Sub-state seedings were released Wednesday by the Kansas State High School Activities Association.
Tonganoxie, which will play host to a Class 4A tournament for the second time in three years, will be the No. 5 seed in its bracket. The Chieftains (16-17) will face No. 4 seed Bishop Ward (17-18) in the first round. THS went 2-0 against the Cyclones in the regular season.
The winner of the match will advance to face the winner of No. 1 Eudora (22-15) and No. 8 Piper (10-28) in the semifinals. The Chieftains lost their only meeting with Eudora this season, but went 2-0 against PHS.
Tournament action will begin at 2 p.m. Saturday and will be conducted on two courts in the main gym. Eudora will open against Piper on the north court, followed by Tonganoxie's clash with Ward.
No. 2 Sumner Academy (17-16) and No. 7 Bonner Springs (15-19) will play the first match on the south court, followed by a match between No. 3 De Soto (18-17) and No. 6 Basehor-Linwood (17-19).
McLouth will be in Class 2A action just down the road at Leavenworth-Immaculata. The Bulldogs (3-30) are the No. 7 seed in their tournament and will open against No. 2 Jefferson County North (19-14). Immaculata (26-9) is the top seed in the tournament, which will begin at 1 p.m. and use just one court. MHS' first-round match will be the third match of the tournament.