THS

soccer falls to Leavenworth in overtime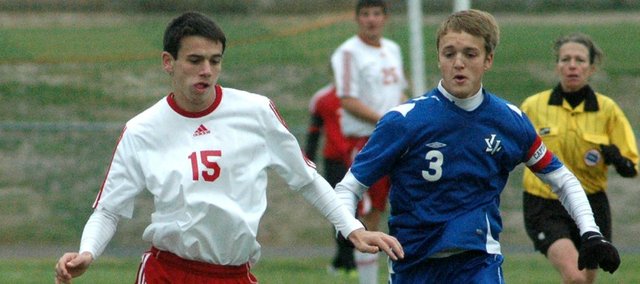 The Tonganoxie High soccer team didn't exactly end the regular season in favorable fashion, as the Chieftains dropped a 1-0, overtime struggle against Leavenworth on Thursday in senior night action.
THS (12-3-1) played into a stiff wind in the first half and struggled to create shot opportunities. Leavenworth spent a good portion of the opening period, but the Chieftain defense kept the Pioneers from creating many clean shot opportunities.
Leavenworth got its best chance on a free kick by Thomas Guthrie with 25:52 left in the half, but senior goalkeeper corralled stopped the shot attempt to keep the game scoreless.
"(Truesell) had to not go one way or the other, so he read it and did the right thing," coach Brian Kroll said.
The defensive battle continued for the rest of the period. THS had the wind at its back in the second half and had several near-misses at the goal. Neither team found the net before the clock ran out, so the game went to a 10-minute, sudden-death overtime period.
LHS played against the wind in overtime, but got a scoring opportunity with time winding down. Guthrie emerged from a clash in front of the goal and got the ball just by a diving Truesdell to end the game with 3:51 left on the clock.
"(The wind) affected the game for both teams," Kroll said. "I don't think it aided either team any way it goes. The wind had nothing to do with it, but it's funny to me that the goal happened going into the wind."
Following the game, the THS seniors were honored in a ceremony.
The Chieftains will now await the announcement of Class 4-1A regional seedings, which will take place Saturday. Regardless of seed, THS' record has guaranteed the team a home game in Tuesday's regional opener.
"It's all or nothing," Kroll said of regionals. "We're not playing for tomorrow. We want to win today's game and move forward. That's the mentality that needs to happen."