Chieftains eye senior night win vs. Jeff West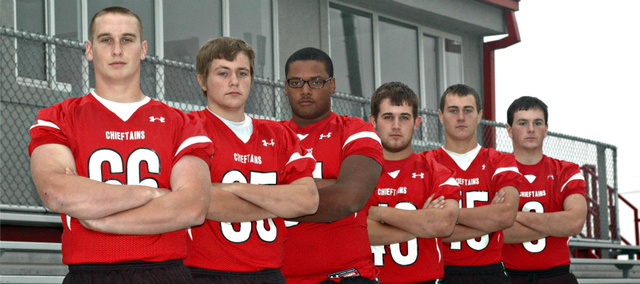 Tonganoxie High will likely play its final home football game of the season at 7 p.m. today, but could could go a long way in extending its season with a victory.
THS (2-5, 0-1 district ) will play host to Jeff West (4-3, 1-0) for a Class 4A District 2 showdown at Beatty Field. The Chieftains dropped their district opener last week at Perry-Lecompton, 30-0, while the Tigers held on for a 13-8 victory against Basehor-Linwood.
"It would be a great opportunity for us to go into week nine with a possibility of us going to that next level," said coach Al Troyer, who has spoken to the team about November football since the first practice of the year. "For any program, it would be a huge stride. A win in this district this week is key. It could be a season-changing outcome."
Troyer's squad will look to build on a performance last week in which it forced four turnovers, but couldn't find the end zone. Junior running back Cole Holloway turned in his third consecutive 100-yard performance, rushing for 139 yards. He now has 772 yards and seven touchdowns this season.
Jeff West used a balanced attack to defeat Basehor-Linwood last week. Tiger quarterback Ian Mullins threw for one score and ran for another, while the defense limited the Bobcats to 224 yards of offense.
"They're quick and aggressive," Troyer said of Jeff West. "It's going to be a hard-fought ball game. They definitely are technically sound and they like to pound the ball, but they can throw it if they need to."
The Tigers rolled to a 46-0 win against THS in last season's finale. A 2012 district championship is likely out of the question following last week's lost, but a win this week could keep the Chieftains' playoff hopes alive with one district game remaining on the schedule. In tonight's other district contest, Perry-Lecompton will travel to Basehor-Linwood.
Tonight will mark the final home game for six seniors in Thomas Miller, Ty Barton, Gus Dent, Cody Saladin, Tyler Zinser and Brett Shelton.
"We try to emphasize to the seniors that this is their last home game," Troyer said. "After this season, they may never strap on a football helmet again. Just having some senior leadership in there, even though they were few, they were good mentors for these kids."