Local youths have success at martial arts competition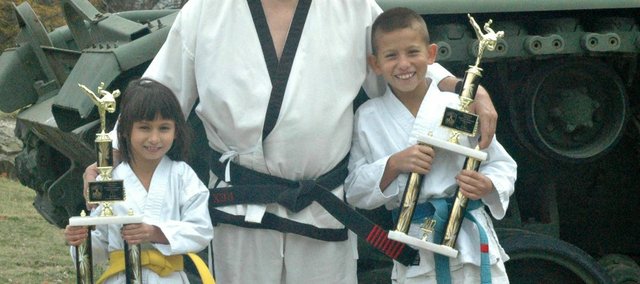 A pair of Tonganoxie youths recently competed in a national martial arts competition, and both came home with some hardware.
Quinton L. and Paige M. Landrum traveled Oct. 13 to Kansas City Kansas Community College for the 39th annual Taw Kwon Do championships, presented by Choon Lee's Academy of Tae Kwon Do. Quinton placed first and Paige second in their respective divisions.
Quinton won the age 9-10 blue belt division, giving him his third title. Paige, who competed in her first championship, took second in the 8 and younger yellow belt division.
Quinton and Paige both train with their uncle, Master Rex L. Hutton, at the Tonganoxie Martial Arts Academy, which has been in operation since 1977. Hutton has been teaching his nephew and niece since they were 3 years old.