THS

soccer receives No. 2 seed in regional bracket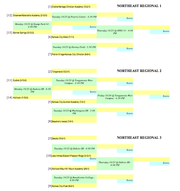 The Tonganoxie High soccer team has received a No. 2 seed in the Class 4-1A northeast regional bracket, released Saturday by the Kansas State High School Activities Association.
The Chieftains (12-3-1) are in the regional 2 bracket and will play the winner of No. 11 Eudora (3-13) and No. 14 (1-15) at 4:30 p.m. Tuesday at the Tonganoxie soccer complex. Atchison and Eudora will play at 6:30 p.m. Monday at EHS.
THS handed Atchison a 9-1 defeat on Sept. 4 and defeated Eudora by a 10-0 margin on Sept. 24. Both games were at home.
The winner of Tuesday's game will advance to the regional championship game, scheduled for 4:30 p.m. Friday at THS.