Bulldogs clinch district title with win at
VFHS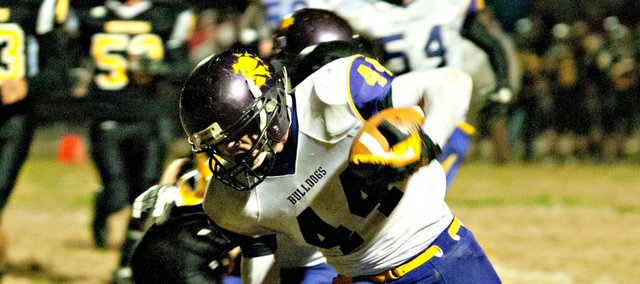 It's been several years since McLouth has made an appearance in the state football playoffs. Friday at Valley Falls, though, the team made sure that streak would soon come to an end.
The Bulldogs (7-1, 5-0 Delaware Valley League) clinched their first district title since 2005 Friday with a 36-6 win in Class 2-1A District 2 action at Valley Falls. The victory guaranteed MHS a home game in the first round of the playoffs against either Centralia or Jackson Heights on Nov. 2.
Valley Falls (4-4, 3-4) scored the first points of the game on a 39-yard touchdown run, but the Bulldogs answered with a 3-yard score by senior T.J. Crowell. Crowell then added a two-point conversion to give MHS an 8-6 lead at the end of the first quarter. Senior quarterback Walbridge made it a two-score game with a six-yard run in the second quarter, and McLouth took a 16-6 lead into the locker room at halftime.
"(Valley Falls) has a good running back and I thought their line played really well," coach Chris Stewart said. "They had a couple series where they really drove and put us back on our heels."
A pair of Bulldog touchdowns put the game out of reach in the third quarter. Walbridge hooked up with junior Drew Cerny on a 20-yard scoring strike, then senior Dakota Cop hit paydirt on an 11-yard run. Junior Nick McAferty capped off scoring with a five-yard touchdown run in the final period.
McLouth enjoyed another balanced offensive attack, finishing with 246 rushing yards and 119 passing yards. Walbridge went 8-of-11 through the air and led the rushing attack with 68 yards. Cerny and Crowell added 65 and 60 yards, respectively.
"I think offensively, the guys put together some good drives," Stewart said. "We were able to finish our drives, so I thought they did a good job."
McLouth will wrap up its regular season schedule Friday against Leavenworth-Immaculata (2-6, 0-5) at Stan Braksick Sports Complex. It will the final regular season home game for six seniors in Walbridge, Cop, Crowell, Wyatt Farris, Matt Horton and Charles Courtney.
"They run a veer option type similar to what Valley Falls runs," Stewart said of the Immaculata offense. "It helps us on the defensive side of the ball to get used to that type of offense. They're young and I think their coach said they've had some injuries, but I do think they're a good team. We've got to keep our heads up and go play."
Stewart's squad will also learn its first playoff opponent Friday when Centralia (8-0) plays host to Jackson Heights (6-2) in what amounts to the District 1 title game.