Bond issue forum is Wednesday at
TES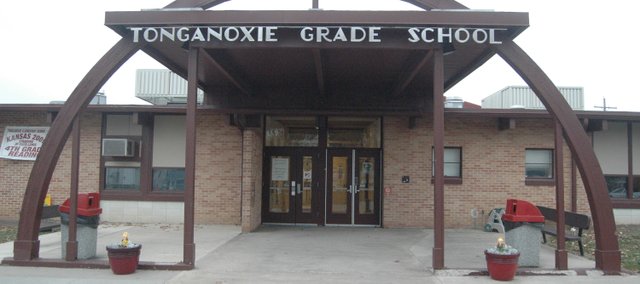 Voters will have the opportunity to ask questions about the proposed $27.2 million school bond issue for a new elementary school Wednesday at a forum in Tonganoxie Elementary School.
The forum will be 7-9 p.m. at the TES cafeteria.
USD 464 Superintendent Randy Weseman said there would be three stations at the forum, which Weseman said would be organized more like an open house in which patrons could ask individual questions.
Weseman will be at one station with a power point answering questions about the bond issue and "explaining basically what's in it. Why we're doing it."
The next station will have representatives from HTK Architects, the district's architecture firm, answering questions about facility design.
And at the third station, representatives from George K. Baum, the district's bond adviser, will answer questions about the financial aspects of the bond issue.
The district is looking at three possible sites near Tonganoxie Middle School on its 80 acres to build a new elementary school if the bond issue were to pass Nov. 6.
The three options the district has been evaluating are:
• A new school south of TMS. Positives for the site, according to HTK, are that the ground is fairly flat and parking could be shared with TMS. Negatives would be relocating the recreational fields that are there and looking at the issue of traffic if 12th Street were extended. Weseman has been looking at the possibility of extending 12th Street with a sidewalk on the school property in an effort to improve traffic flow. He said many parents drop their children off at 12th Street and Delaware Drive and students then walk to the middle school from there.
• A school southeast of TMS. Positives are plenty of space and strong traffic circulation. A perceived negative is long drives.
• A school east of TMS along Washington Street. The facility would include two levels, an upper level being at ground level with a gymnasium, cafeteria and classrooms. The lower level with more classrooms would be beneath the upper-level classrooms to the east. Positives would be good visibility and less infrastructure improvements and good circulation options, HTK said. A perceived negative would be that it would be on a smaller site.
Though the bond issue calls for $27.2 million, grant funding from the state for new facilities would contribute about $9.3 million, so taxpayers would be paying $17.9 million.
On a home valued at $150,000, taxes would be $16.80 more a month or $201.60 per year.
A $26.9 million bond issue was soundly defeated in April 2011. The plan called for renovations to the high school and the building of a second- through fifth-grade elementary school near TMS. The current elementary school would have become home to just kindergarten and first grade if the bond would have passed.
For this election, the bond issue ballot question pertains exclusively to the building of a new elementary school.
That means that by law, bond money could only be used for the building of a new elementary school and supporting infrastructure, such as roads, sidewalks, parking lots and playground if the bond were to pass, Weseman said.
"It's specifically for an elementary school," Weseman said.
If the bond issue were to pass, the current elementary school would be a mixed-use building. Some potential uses the district would explore for the current elementary school if a new school were built include: overflow classrooms for future growth needs in the district, shared space with City Hall, possible library needs, a community center, board of education needs, district special needs cooperative, parks and recreation, possible community college classrooms and virtual school.
A new elementary school would be a kindergarten through fifth grade building. The current elementary is K-4 and middle school 5-8.