Five questions: Safe tricks, treats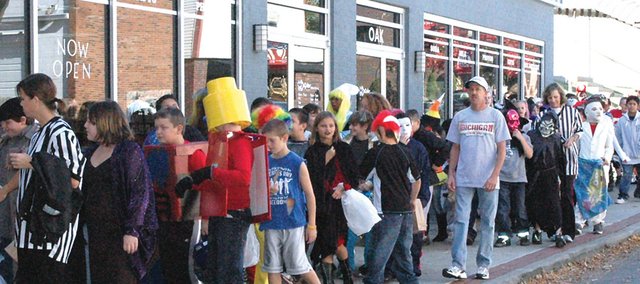 Cherie Sage, state coordinator with Safe Kids Kansas, shares some safety tips for Halloween.
Q: Why is it important to remind kids of Halloween safety?
A: Halloween is still the most dangerous night of the year for child pedestrians. The safety tips aren't something that changes that much, but we like to remind people because it is such a novel thing — it's not often we walk around knocking on doors in the dark, asking strangers for candy.
Q: What are some basic safety tips for trick-or-treaters?
A: Only trick-or-treat in familiar areas that are well-lit. Cross streets using traffic signals and crosswalks. Costumes should have reflective tape, and face paint and make up are preferable to masks, which restrict a child's vision. Children ages 12 and under should trick-or-treat with an adult. Have kids carry glow sticks or flashlights in order to see better, as well as be seen by drivers.
Q: What precautions should others take on Halloween?
A: Drivers need to slow down and be alert, especially in residential neighborhoods. Remember that popular trick-or-treating hours are 5:30 to 9:30 p.m.
Q: What about organized trick-or-treating events?
A: If you are familiar with the organization that is hosting the event, whether it's a mall or a local church, there shouldn't be any extra precautions. It's still a good idea to always check your children's candy before they eat it.
Q: Are there any new things to keep in mind?
A: The one thing that might be a little different is that younger kids have cell phones and smart phones, and that can be a distraction to them if they're texting their friends and not paying attention to the traffic in the street.