Linenberger: Halloween celebration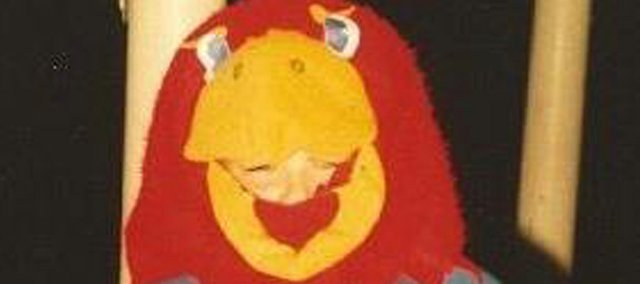 Figuring out a Halloween costume can be a big decision.
Granted, I don't necessarily put a lot of planning into my costume.
And I'm no longer a youngster with the aid of my mother to craft an impressive costume. Her October 1987 work, the Jayhawk mascot, was her greatest masterpiece.
Oftentimes I go Macgyver and take a few random items and — bam — a costume.
Last year, I went as the World Series. I happened to own hats of the 2011 World Series representatives, Texas and St. Louis, and a tiny replica of the Gateway Arch. Yes, it was a last-minute costume idea.
It's not the first time I've taken the baseball route. As a Chicago Cubs fan, I went as Steve Bartman and another year as Harry Caray.
Another year I strayed from the baseball theme and opted for Kristen Wiig's recurring Target Lady character from "Saturday Night Live."
Other partygoers approved.
Perhaps this year I will put more thought into my costume. I have a few days to decide, right?
I did an online search for "halloween costumes" and stumbled upon Pinterest.
Our Basehor reporter, Annie Montemayor, is a staunch supporter of the site and, I assume, my Pinterest interest.
There were some good ideas, such as children dressed as a rock, a piece of paper and a pair of scissors. Another went as a Facebook page.
A separate site offered last-minute ideas, such as a "ceiling fan." The shirt read "Go Ceiling" with feather dusters serving as pom-pons.
I had a similar idea a couple years ago with a Justin Timberlake song in mind.
I was going to carry a department store bag around with a receipt for "sexy." In essence, I was "bringing sexy back." Well, technically I was returning sexy to the store for a refund. Yes, it was a definite stretch.
I'm confident there will be far more clever costumes on display next Wednesday as youths trick-or-treat through Tonganoxie on Halloween.
And I hope to get an early glimpse of those costumes from 6-8 p.m. Friday during the annual Spooktacular event in downtown Tonganoxie.
Be sure to send us a photo of you in costume to slinenberger@theworldco.info with your name, age and what your costume is, and you might see the photo on the website or in print.
I look forward to seeing you Friday in downtown Tonganoxie.