YOU

'D

BETTER

BELIEVE

IT

:

THS

football playoff bound after win at Basehor-Linwood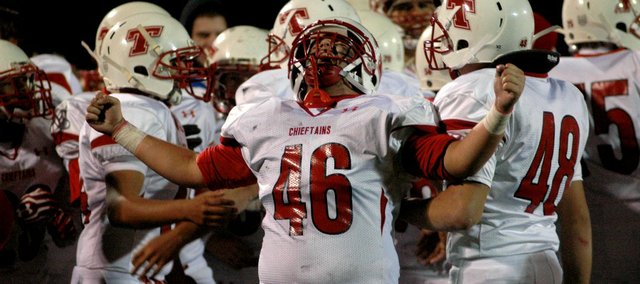 Basehor — Moments before the Tonganoxie High football team took the field for its first practice on Aug. 13, coach Al Troyer talked to his players about postseason football. The road wasn't easy and the results weren't always pretty, but Thursday night at Basehor-Linwood, vision became reality.
The Chieftains scored 18 unanswered points and came up with three key stops in the fourth quarter to clinch their first district title since 2005 with an 18-11 victory against their Kaw Valley League rival.
THS (4-5, 2-1 Class 4A District 2) controlled its own playoff destiny against the Bobcats (4-5, 1-2), but needed some help from Jefferson West to win the district title. Jeff West defeated Perry-Lecompton in the other district game, 13-6. All four district teams were tied at 1-1 entering last week, but the Chieftains won their head-to-head meeting with JWHS.
Tonganoxie broke open an 11-11 tie on the first play of the fourth quarter when junior Cole Holloway scored on a five-yard run — his second touchdown of the game. Holloway picked up big chunks of yards at will against the Bobcat defense, carrying the ball 38 times for 232 yards. He surpassed the 1,000-yard mark and finished the regular season with 1,075 yards.
"We ran the ball right at them," coach Al Troyer said. "That was our goal. The kids played hard, they kept their mouths shut and they stayed physical on both sides of the ball."
The THS defense held Basehor-Linwood to a three-and-out on the ensuing drive and looked to go up by two scores with time running out. But a botched snap inside the Bobcat 10 resulted in a turnover with 6:08 remaining. BLHS drove into Chieftain territory before junior Shane Levy brought the scoring threat to a halt.
Levy, who lost a fumble inside the Bobcat 5 in the third quarter, redeemed himself when he brought down quarterback Tanner Garver, forcing an incompletion on fourth down. The play gave the Chieftains the ball with 3:29 remaining.
"The district championship was up for grabs," Levy said. "I just had to make a play on defense."
THS picked up a first down, but wasn't able to run out the clock. A punt by sophomore Carl Hecht pinned Basehor-Linwood at its own 21 with 1:07 left and no timeouts remaining. The Bobcats got to their own 40 before Levy came up with another big defensive play — a third-down sack of quarterback Tim Sanders with 26 seconds remaining. Sanders hit tight end tight end Ben Johnson on a fourth-down desperation play, but Johnson was taken down near midfield as time expired.
"I want to credit our offensive and defensive coordinators, Matt Bond and Preston Troyer," Al Troyer said. "They did a great job of getting us ready this week."
Players, coaches and fans stormed the BLHS field as fireworks lit up the sky behind the Tonganoxie sideline when the clock hit zero. The victory against the Bobcats was the Chieftains' first since 2006, when this year's senior were still in sixth grade.
"This was huge," Al Troyer said. "Each week, I want the fans to come onto the field (after the game). Each week, it's gotten larger and larger. It's a great atmosphere and what a great night."
After a scoreless first quarter, Basehor-Linwood drew first blood when Garver hooked up with Johnson from nine yards out with 9:02 left until halftime. Garver and Johnson connected again on the two-point try to make it 8-0 Bobcats. A muffed kickoff return gave the Bobcats the ball inside the Chieftain 10 one play later, but the THS defense limited Basehor-Linwood to a 22-yard field goal by Gage Wiser.
The Chieftains needed just four minutes to answer, as they marched 80 yards and scored on a 19-yard burst by Holloway, who recorded his second 200-yard outing of the year.
"The line did a great job blocking up front and Shane did a great job on the linebackers," Holloway said. "There were a ton of holes to run through. I really think anyone could have run through the holes the line was creating."
Junior quarterback Tyler Ford hit Levy for a two-point conversion to make it a three-point game with 2:34 left. The Chieftain defense then forced the Bobcats to go three-and-out while taking just 13 seconds off the clock. Several long runs by Holloway and Levy gave THS a chance to tie the or take the lead in the final seconds of the half. Junior Eric Tate capitalized on a 28-yard field goal attempt with just three seconds remaining, and the teams went into the break deadlocked at 11-11.
Levy joined Holloway as a 100-yard rusher, toting the ball 14 times for a season-high 123 yards. He also caught two passes for 36 yards. Drew Potter led Basehor-Linwood's offensive attack with 96 yards on 19 carries.
Tonganoxie played host to Atchison (6-3) in Tuesday's postseason opener at Beatty Field. A recap is available at tonganoxiemirror.com. AHS finished second in District 1 by defeating Sumner Academy on Thursday. The Chieftains dropped a 25-0 decision against Atchison on Sept. 7 at home.
Score by quarters
Tonganoxie 0 11 0 7 — 18
Basehor-Linwood 0 11 0 0 — 11
Second quarter
BLHS — Ben Johnson 9 pass from Tanner Garver (Johnson pass from Garver), 9:02
BLHS — Gage Wiser 22 field goal, 6:35
THS — Cole Holloway 19 run (Shane Levy pass from Tyler Ford), 2:34
THS — Eric Tate 28 field goal, :03
Fourth quarter
THS — Holloway 5 run (Tate kick), 11:56
Rushing
THS: Cole Holloway 38-232, Shane Levy, 14-123, Tyler Ford 4-(-6); BLHS: Drew Potter 19-96; Tanner Garver 14-38, Tim Sanders 3-(-4).
Passing
THS: Ford 2-6-0 36; BLHS: Garver 5-10-0 58, Zac Hevel 4-6-0 53, Sanders 1-2-0 9.
Receiving
THS: Levy 2-36; BLHS: Johnson 4-30, Garver 2-16, Caleb Hiss 2-15, Hevel 1-31, Broc Lindsay 1-28.