Chieftain soccer advances to state quarterfinals
THS

defeats Basehor-Linwood for regional title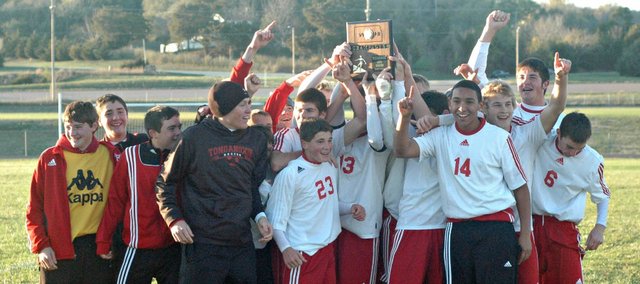 Following a near disaster against Eudora in the regional semifinals, Tonganoxie High coach Brian Kroll knew his team needed to wake up in a hurry. As it turns out, the alarm went off without a moment to spare.
The Chieftains clinched their second consecutive regional championship and broke a school record in the process by downing Basehor-Linwood on Friday, 1-0.
"Wednesday, the first part of practice was kind of a repeat of what we had," Kroll said of his squad's pregame preparation. "I brought them together and we talked, then we went back out and it was like the light came on. We ended practice on a high note."
With its focus restored and do-or-die mentality back in place, THS (14-3-1) got the start to the game it was looking for. Senior co-captain Matt Saathoff scored the only goal of the game off an assist from sophomore Asher Huseman with 14:54 remaining in the first half. Huseman found Saathoff between a pair of Bobcat defenders, then Saathoff nearly lost control of the ball, but fired it past goalkeeper Cameron Kennedy to put THS on top.
"It was a good through-ball," Saathoff said. "I just had a few touches I had to take. I had a little mess-up at the end, but it had the drive to get into the goal."
A defensive battle ensued, as both teams struggled to create shot opportunities the rest of the way.
The Bobcats (8-9-1) had a chance to tie the game just before halftime, but Trey Kincheloe came up wide on a free kick. Caleb Wilson almost evened the score with a header in the opening minutes of the second half, but the ball bounced off the top goal post.
The teams traded possession for the remainder of the game, but the Chieftain defense did just enough to preserve the shutout and propel the team into the state quarterfinals.
"I told my wife that I'll be sad if we lose, but I'll be happy for (Bobcat coach Austin) Knipp that he finally got one of these," Kroll said. "I told Knipp the same thing before the game. It was a very, very good game for both teams. It was awesome."
Senior Keaton Truesdell recorded the shutout in the goal — his fifth of the season.
With the win, THS broke the school record for victories in a season, previously set by the 1997 team (13-4-2), which also won a regional title.
The Chieftains played host to De Soto (12-5-1) on Tuesday at the high school soccer complex. De Soto defeated Piper in its regional final on Thursday, 4-1. The Chieftains and Wildcats did not meet during the regular season. A recap of Tuesday's game is available at tonganoxiemirror.com.