Bulldogs slam Raiders to end regular season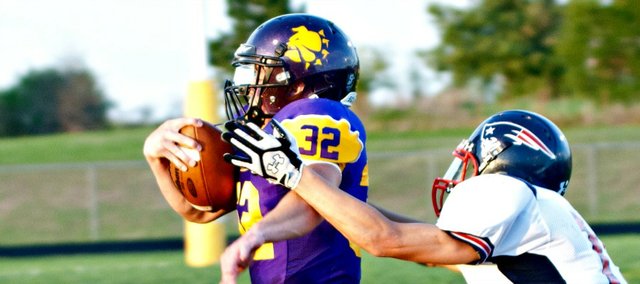 For the second time in as many weeks, a slow start didn't do much to prevent a lopsided victory in McLouth High's favor.
The Bulldogs were tied with Leavenworth-Immaculata midway through the first quarter, but quickly erased any thoughts of an upset in a 48-6 victory Friday at Stan Braksick Sports Complex.
MHS (8-1, 3-0 Class 2-1A District 2), which had already clinched a district title the week before, opened scoring with a 38-yard touchdown run by junior Drew Cerny. Immaculata (2-7, 0-4) answered with a nine-yard score by Drew Sachen to keep things close early, but the Bulldogs went in front for good when senior Dakota Cop broke free from 74 yards out later in the period. Senior Marc Walbridge hooked up with junior Nick McAferty for the two-point conversion to make it 14-6 at the end of the quarter.
"I thought our kids responded well," coach Chris Stewart said. "They've kind of shown a pattern where they've struggled early, then gotten into a better flow of the game. They were able to contain (Immaculata) a little bit better into the second quarter and throughout the game."
Stewart's squad kept its foot on the gas and reeled off four touchdowns in the second quarter — three of them through the air. Walbridge hit Cerny on a 52-yard touchdown pass and senior T.J. Crowell scored on a six-yard run, then Walbridge found Cop and sophomore Jack Courtney on scoring strikes of 24 and 13 yards.
"Our offensive line has been doing a great job with their blocking schemes, and all the kids we have at skill positions have shown we can get them the ball and they can get some yardage," Stewart said. "That gives us a good opportunity to make adjustments during the game."
Crowell capped off the Bulldog onslaught with a three-yard touchdown run in the third quarter.
As a team, McLouth finished with 403 yards of offense. Walbridge completed all five of his pass attempts for 136 yards. For just the second time this season, MHS had two players eclipse the 100-yard mark on the ground. Crowell led the charge with 105 yards on 11 carries, while Cop added 100 yards on four carries.
With the win, the Bulldogs capped off their best regular-season finish since the 2005 team went 9-0. The Bulldogs will be back at home at 7 p.m. Friday when they play host to District 1 runner-up Jackson Heights (6-3) in the first round of the state playoffs. JHHS had a chance to win its district in the final week of the regular season, but dropped a 61-8 decision at district champ Centralia.
McLouth's game against the Cobras will mark the end of its seven-year postseason drought. According to Stewart, there are plenty of people outside the football program responsible for the Bulldogs' return to the playoffs.
"I think it's absolutely a positive situation for everyone involved," he said. "You hope that, when you start things, you can build them up and see success each year. We've accomplished that. That's been a contribution by everybody involved — not just the kids, but the teachers and everybody in the community that's helped us out."