Candidate questionnaire: Pat Cahill
Q: Why did you decide to run for County Attorney? What would be your top priority if elected?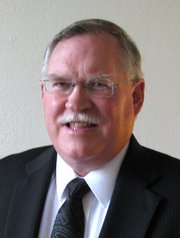 The Cahill File
Patrick J. Cahill, Democrat
Age: 64
Occupation: Attorney
Married: Wife, Mayetta
Children: 2
Experience: 31 years as an attorney with 25 years as a prosecutor in Leavenworth County.
Education: Bachelor's degree in political science from St. Benedict's College & J.D.(Juris Doctor) from Washburn University
A: I was robbed at gunpoint while working as a retail clerk in law school in Topeka. The suspect was caught by the police within a half hour of the robbery with cash & checks made payable to the store in his possession. I I.D.'d him as the robber. I was subpoenaed to appear in Shawnee County Court to testify, came to Court on time and didn't see anyone. A Judge sent me to the D.A.'s Office where I was yelled at for not checking in with them (nothing I received said to see them). They said the suspect was released on a P.R. Bond by the court and although he was on federal parole for a felony his parole was not revoked. He came in my store late one night & then left without saying anything. I called the Judge who told me that his bond didn't require any contact with me but he would change it. I finally testified, the suspect plead guilty but was allowed to remain free on bond until his sentencing. He failed to appear for sentencing and was arrested 6 months later in Junction City for armed robbery, kidnapping and rape. I never wanted this kind of thing to happen to anyone else.
Q: How does your experience qualify you for this office?
A: Being the victim of a serious crime allows me to better understand how our victims feel. 25 years as a prosecutor who has tried over 55 criminal jury trials gives me the Courtroom experience to try cases. I also served as a probation officer for adults and juveniles for 4 years. I was selected by Robert E. Davis in 1981 to create the special projects office (handled worthless checks, diversion proI have also written successful grants to obtain a drug prosecutor and a domestic violence prosecutor and judge. I helped get a grant for a truancy officer to assist in reducing truancy. I have served in leadership positions in a number of service organizations in our community.
Q: What are the biggest challenges facing the county attorney?
A: As Leavenworth County continues to grow we need to be able to effectively process more criminal reports as quickly as possible.
Funding will continue to be limited and we must seek ways to reduce costs while better using our citizen's money. Programs to assist local businesses and elderly citizens that keep them from becoming victims of crime are essential. We should the most effective technology to increase our productivity as business has done. The office needs to treat everyone who commits a crime the same regardless of whom they are or who they may be related to.
Q: Are there any areas in the county attorney's office that you would like to improve?
A: I would seek to communicate more effectively with victims and witnesses in cases using e-mail & texting to keep them up to date on the status of their cases. I would greatly expand training for our local law enforcement agencies to better prepare their officers to testify in jury trials. I would reach out to the citizens to help solve crimes by getting rewards for key information and by seeking more ways to prevent crimes for businesses and our citizens, I will try jury trials on a regular basis as I feel the county attorney must be able to do more than just be an administrator.
Q: Why should voters select you rather than your opponent?
A: I feel that if the voters compare our experience (mine: 25 years as a local prosecutor who tried over 55 Jury Trials, a history of writing grants and developing innovative programs, service for more than 30 years in local organizations serving our community versus my opponent's limited experience (five years as an assistant county attorney and the last four years as county attorney, limited jury trial experience about one-fifth of my experience, a high turnover in experienced assistants as county attorney, and questionable decisions on pleas and diversion (In August he diverted a person who possessed child pornography a severity level 5 person felony which carries a presumptive prison sentence. As a result this defendant will not have this offense on his record if he completes diversion rather than serving a prison sentence. The case is 2012-CR-170 and is a public record in the Leavenworth District Court Clerk's Office). I won't make those kinds of decisions.