THE

FIGHT

CONTINUES

: Chieftains avenge loss to Atchison in playoff opener
THS

will travel Saturday to Eudora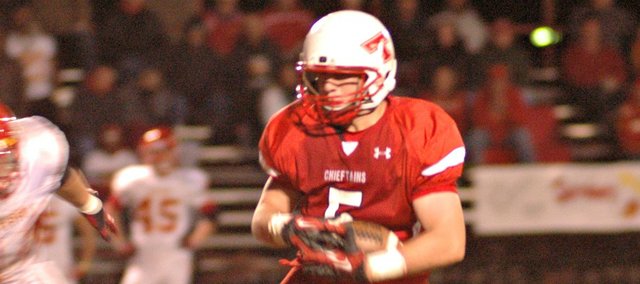 Photo Gallery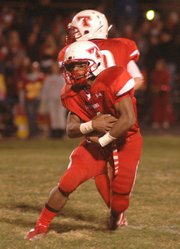 THS football scores playoff win
The Chieftains won a bi-district championship on Tuesday with a 35-28 victory against Atchison at Beatty Field.
A dominant run game and late defensive plays made up the blueprint Tonganoxie High followed to win its district last week at Basehor-Linwood. Tuesday's bi-district game against Atchison was more of the same for the Chieftains, who guaranteed they'd still be playing in November.
THS allowed just 97 yards in the second half — 88 of which came on a broken play — and avenged an earlier loss to AHS with a 35-28 victory in Tuesday's postseason opener at Beatty Field.
The Chieftains (5-5) held a 21-7 lead after the first quarter, but Atchison (6-4) scored 14 points in the second quarter to force a tie at the break. Shane Levy put THS in front for good with his third rushing touchdown of the night — this one on a four-yard run midway through the third quarter. Tyler Ford doubled the Chieftains' advantage on the first play of the fourth quarter when he hit Ben Johnson for a 12-yard scoring strike.
It looked as though Atchison would go down without a fight, but quarterback Tanner Huntington hooked up with Jered Ross for an 88-yard touchdown on fourth and 10.
Ford threw an interception at the AHS one-yard line on the ensuing drive, but the Chieftain defense forced a turnover-on-downs with 2:09 remaining. Multiple unsportsmanlike conduct calls against Atchison — two of which resulted in player ejections — allowed THS to kneel out the clock and secure a win against the same Atchison team that handed it a 25-0 loss on Sept. 7.
Huntington was 11-of-25 passing for 291 yards and three scores, but was just 4-of-12 in the second half.
"We know we're a better team than the first time we played, but we still knew they had athletes and big threat capabilities," coach Al Troyer said. "We shut them down on the run, but we knew they were going to try the big plays and the trick stuff. For the most part, we did good except for a few plays. It was a great win."
For the second straight game, the Chieftains put up huge numbers on the ground. They gouged the AHS defense for 333 rushing yards, including 180 by junior Cole Holloway and 102 by Levy. The junior duo has combined for 637 rushing yards and six touchdowns in the Chieftains' last two games.
"The two-back system really works," Levy said. "Cole was a workhorse out there and with the offensive line, the run is just working."
Holloway opened scoring with a 29-yard touchdown run in the first quarter, and Levy scored on runs of 18 and 10 yards in the period.
After giving up a touchdown to Holloway on the first Chieftain drive of the game, Atchison answered with a 74-yard kick return touchdown by Austin Housh. Levy's two scores gave THS a 14-point lead, but Huntington threw touchdown passes of 25 and 62 yards to pull his team even before halftime.
THS will travel Saturday to Eudora for the regional playoff round. The Cardinals (9-1) won their bi-district game against De Soto, 13-0.
"Tomorrow is a Tuesday for us," Troyer said. "We've got to get ready to go to Eudora. We'll enjoy the win tonight, but we'll get ready for Eudora tomorrow."
Score by quarters
Atchison 7 14 0 7 — 28
Tonganoxie 21 0 7 7 — 35
First quarter
THS — Cole Holloway 29 run (Eric Tate kick), 8:17
AHS — Austin Housh 74 kickoff return (Tanner Huntington kick), 8:01
THS — Shane Levy 18 run (Tate kick), 6:13
THS — Levy 10 run (Tate kick), :26
Second quarter
AHS — Patrick Boos 25 pass from Huntington (Huntington kick), 9:52
AHS — Wade Gassmann 62 pass from Huntington (Huntington kick), 7:50
Third quarter
THS — Levy 4 run (Tate kick), 3:35
Fourth quarter
THS — Ben Johnson 12 pass from Tyler Ford (Tate kick), 11:55
AHS — Jered Ross 88 pass from Huntington (Huntington kick), 3:29
Rushing
AHS: Boos 7-20, Ross 2-5, Housh 4-4, Huntington 10-0, Bennie Smith 1-(-1); THS: Holloway 32-180, Levy 18-102, Ford 7-51.
Passing
AHS: Huntington 11-25-0 291, Tyler Harris 0-1-0 0; THS: Ford 3-5-1 65.
Receiving
AHS: Housh 5-66, Gassmann 4-112, Ross 1-88, Boos 1-25; THS: Wyatt Weeks 1-32, Levy 1-21, Johnson 1-12.