THS

soccer outlasts De Soto for trip to state semis
Chieftains will face McPherson at 7 p.m. Friday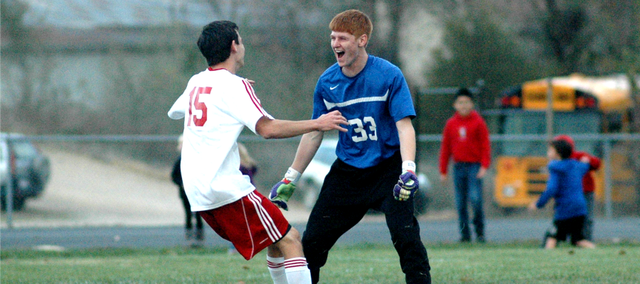 Photo Gallery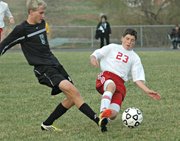 THS soccer vs. De Soto
The Chieftain soccer team punched its ticket to the Class 4-1A state semifinals with a 2-1 win Tuesday against De Soto.
Over the last four seasons, Tonganoxie High seniors Zack Tallent, Matt Saathoff and Keaton Truesdell have played in some pretty big games on the soccer field. However, with their final season on the line in Tuesday's Class 4-1A northeast quarterfinal match against De Soto, the trio of co-captains came up big in a game that could ultimately define their careers.
Tallent and Saathoff each scored second-half goals and Truesdell came up with numerous late saves as the Chieftains came from behind to defeat the Wildcats, 2-1. The victory guaranteed the team its first-ever trip to the state semifinals, set for Friday and Saturday at Piper.
THS (15-3-1) fell behind just before halftime and struggled to create scoring opportunities in the second half. Tallent, who has predominantly played midfielder this season, got a chance when a kick by Truesdell got by the entire De Soto defense. Tallent waited for goalkeeper Eric Williams to attack the ball, then tapped it into the net with 21:33 remaining.
"Zack Tallent has been telling me since he was a freshman, 'I'm a forward, Coach,'" coach Brian Kroll said. "I just decided they were marking Matt Saathoff, so I made the switch to see if they'd leave Zack open and they did. He busted through it and finished."
Tallent didn't record a goal during the regular season, but has found the back of the net twice in postseason play.
Overtime seemed imminent as the teams traded possession after Tallent's equalizer, but Saathoff got a similar look late in the period. He capitalized on the opportunity, scoring his team-leading 27th goal and giving THS its first lead of the game with just 5:05 left.
"That kid doesn't have 27 goals for nothing," Kroll said. "He showed more composure in that goal than almost any of the other goals he's scored in his entire career. He knew where the ball needed to go and he put it there."
The Wildcats (12-6-1) desperately tried to tie the game and got some looks with time running out, but Truesdell came up with one big save after another to keep the lead intact. The fourth-year starter dropped to his knees before being met by teammates when time expired.
"I was just thanking God," Truesdell said. "In a game like this, you're giving 100 percent the whole time. Our defense did a good job of keeping them from having any good shots."
De Soto grabbed the lead when the Chieftains gave up an own-goal with 1:23 left in the first half. A Wildcat player crossed the ball in front of the THS goal, and the ball ricocheted off senior Dallon Price and into the net.
According to Kroll, though, the mishap was hardly the team's biggest concern at the break.
"I told them to let that go," he said. "I thought De Soto killed us in possession, they killed us in movement, they killed us in first touch. Overall, it was their game. We just so happened to put all three goals in. One was for them and the other two were for us. Fortunately for us, we ended up with two."
The Chieftains will play in Friday's 7 p.m. semifinal against south central qualifier McPherson (17-2), which reached the semis with a 6-0 victory against Fort Scott. The 5 p.m. quarterfinal will pit northeast qualifier Kansas City Christian (9-6-4) against south central qualifier Topeka-Hayden (18-1).
All four semifinalists are guaranteed two matches. Friday's winners will play for the state title at 2 p.m. Saturday, while the losers will play in a consolation match at noon.
"We'll practice hard and come out to win," Truesdell said. "That's all we can do."