McLouth High announces homecoming week festivities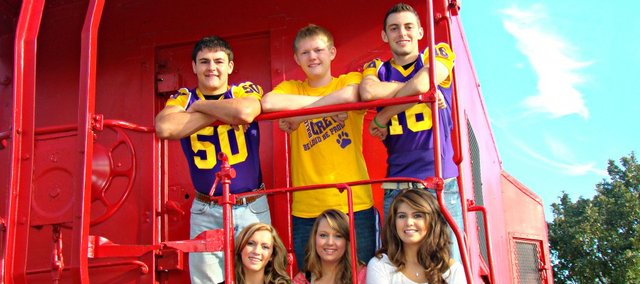 McLouth High School will celebrate homecoming week with activities each day starting Monday with College T-shirt Day.
Other themes are Roaring '20s on Tuesday, Grease ('50s) Wednesday and a tribute to the '80s with Ferris Bueller's Day Off on Thursday.
Friday will be Purple and Gold Day.
A male and a female will be selected as best dressed each day with a $10 cash prize for each winner.
Additional events are planned for the week:
Monday
• Junior varsity game at 6 p.m. against Doniphan West at Stan Braksick Sports Complex.
Tuesday
• Project Runway, McLouth's Got Talent and Best Dance Crew at 2:25 p.m.
• MHS volleyball at Immaculata in Leavenworth starting at 5 p.m.
Wednesday, Sept. 12
• Buff and Tuff game starting at 6:45 p.m., Powder Puff Games at 7:45 p.m. and a scavenger hunt at 8:30 p.m. A bonfire with s'mores will start at 9 p.m.
Friday, Sept. 14
• Parade starts at 2:05 p.m. and will run through downtown McLouth. McLouth will play Christ Prep in football later Friday and the parade theme is Pound the Patriots.
• Events move to the Stan Braksick Sports Complex area for tug-of-war at 2:20 p.m., candidate games at 2:40 p.m. and a pep rally beginning at 3 p.m.
• McLouth takes on Christ Prep at 7 p.m. in football at the Stan Braksick Sports Complex.
• Crowning of homecoming king and queen will be at halftime. The MHS Marching Band also will perform.
• Dance in Purple Gym from 9:15 p.m. to 12:30 a.m. Cost is $5 per student.
This year's king candidates are Wyatt Farris, Austin Neuburger and Marc Walbridge. Queen candidates are Alex Adams, Megan McHenry and Marrisa Raya.