THS

soccer cruises by Atchison in home opener
Saathoff notches hat trick as Chieftains win third straight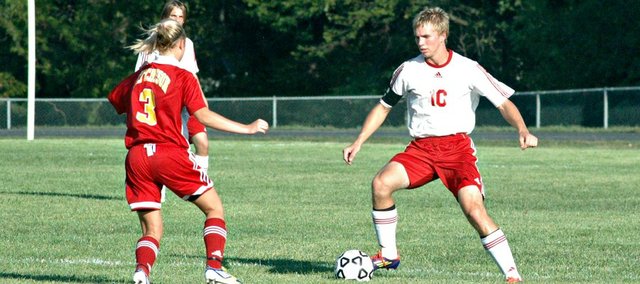 Photo Gallery
THS soccer vs. Atchison
The Tonganoxie High boys soccer team scored a 9-1 win Tuesday against Atchison, pushing its win streak to three games.
THS 9, AHS 1
First half scoring
Asher Huseman (TON) — 37:04
Keaton Truesdell (TON) — 33:09
Matt Saathoff (TON) — 27:40 (Connor Kietzmann assist)
Luke Faherty (TON) — 23:05
Dallon Price (TON) — 20:27
Colton Timm (TON) — 16:37
Madison Sanders (ATC) — 3:57
Second half scoring
Saathoff (TON) — 38:36
Saathoff (TON) — 11:47
Timm (TON) — :58 (Garrett Martin assist)
After battling its way through three straight nail-biters to start the season, it would be easy to assume the Tonganoxie High soccer team would welcome a lopsided victory.
Coach Brian Kroll didn't quite see it that way, but still found plenty of positives in the Chieftains' 9-1 win Tuesday in their home opener against Atchison.
"I don't think it's ever good to get a comfortable win, but what I liked about this was it showed me the poise and composure the boys are going to have," Kroll said. "Even when it's not to the level they've been used to seeing to this point, they still maintained their level of play, so that was good to see."
Senior Matt Saathoff led the way with three goals, giving him five in the team's current three-game win streak.
THS (3-1) opened scoring when sophomore Asher Huseman broke free for a goal with 37:04 left in the first half. The Chieftains found the back of the net six times in the game's first 24 minutes, which gave Kroll a chance to play his reserves for extended minutes.
"The younger guys got an opportunity to see just how fast it's going to play," he said. "It gives them an idea of what to expect. They held with (Atchison) and scored two goals on them, so that's awesome."
The Redmen got on the board when Madison Sanders scored on a penalty kick with 3:57 left until halftime, but that's all the offense they could muster as the Chieftains took a 6-1 lead into the break.
Saathoff, who scored once in the first half, hit paydirt again less than two minutes after halftime, then completed his hat trick with 11:47 to go. Junior Colton Timm scored the final goal — his second of the game — with 58 seconds remaining.
Six Chieftains had at least one goal in the contest, including four who scored for the first time this season.
"It just kind of happened that way," Kroll said. "When you play good soccer, it's not your goal scorers who are going to score the goals."
THS will try to extend its win streak to four games Thursday when it plays host to Perry-Lecompton. The Chieftains handed the Kaws a 2-0 defeat last season.
"Perry is always physical and they're always fast," Kroll said. "I don't really know what to expect, but I know that with how we're playing, I think it will be good."