Tonganoxie students find worms with Asian roots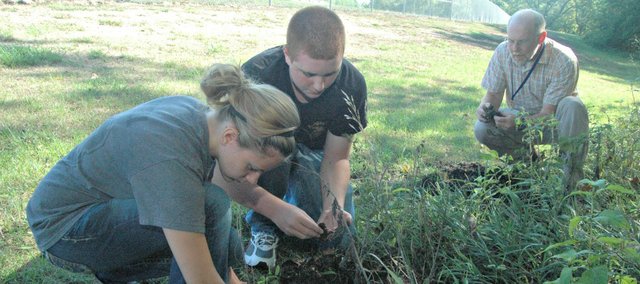 Some Tonganoxie inhabitants could be thousands of miles from home, according to researchers' findings.
Tonganoxie High School science teacher John Tollefson's students in 2010 participated in Kansas State University's Earthworms Across Kansas, a citizen science project for middle and high school students across the state.
What students uncovered near THS was a species of worm of the family Moniligastridae, which is native to Asia.
K-State professor Bruce Snyder, who collects samples from schools participating in the project, said it's a rarity.
"There are a couple records in North America, but very few, so it's a pretty exciting find for us," Snyder said.
How the worms found their way to Tonganoxie is anyone's guess.
Some earthworms are brought to the country intentionally, Snyder said. Others are accidental, such as in potted plants and soil taken from other areas. Construction work is another possibility, Snyder said. That could apply to the Tonganoxie find, because U.S. Highway 24-40 runs not far from where the worms were found — a wooded area south of Tonganoxie High School's west campus.
It's the first known record of an earthworm from the Moniligastridae family in Kansas, Snyder said.
The find brought Snyder, as well as Sam James, an adjunct professor at the University of Iowa, to Tonganoxie earlier this year.
James once worked at K-State and later was a research associate at the Kansas University Museum of Natural History.
"This little worm is probably of east Asian nontropical origin and belongs to a group of earthworms that is sort of the nearest thing to being an earthworm that is not really an earthworm in the strict evolutionary sense," James said.
Justin Schelert, a THS senior, said learning of the rare find was an exciting moment, but he still was trying to fathom the worm accidentally making its way to the middle of the United States.
"It was a little strange to me, I think," Schelert said.
Katie Jacks, another senior and one of Tollefson's students, said the research was nothing new in environmental science class. The outdoors often is Tollefson's classroom, according to Jacks.
"Mr. T's class is a lot of fun," Jacks said.
Tollefson fielded questions about whether the find would translate into any monetary kickbacks. The discovery won't be financing any college tuition for THS students, but the teacher tried to convey to students what the research meant.
"Even though they looked at it that they were just worms, they had done something that people hadn't done before, that their names would be in the records forever," Tollefson said. "That generated some excitement with students."
Snyder said some 300 kits had been sent out to Kansas schools for Earthworms Across Kansas, and about 100 were returned with specimens. More common are worms making their way to Kansas from other areas of the U.S., as well as Europe, he said.
Worms are a major part of the ecosystem, Snyder said, and research into any invasive worms to an area can determine whether they are threatening the ecosystem. Earthworms from Europe that made their way to forests in Michigan and Minnesota, for instance, "devour everything on the forest floor," Snyder said.
He didn't see any signs of the Tonganoxie worms being harmful to the area.
"At this point, it's hard to imagine anything they could be doing that could be a problem," he said.
— Shawn Linenberger, news editor at The (Tonganoxie) Mirror, can be reached at 913-845-2222.