Chieftain football to face Atchison in Friday's home opener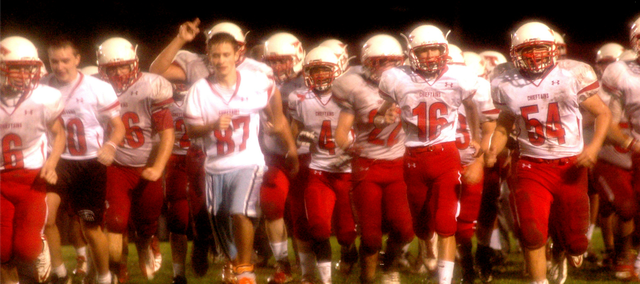 A week ago, Tonganoxie High shocked the Kaw Valley League with a 22-20 victory at Lansing. The Chieftains will play host to Atchison at 7 p.m. Friday in their home opener at Beatty Field, and they're out to prove last week's rain-soaked win was anything but a fluke.
THS got off to a sluggish start in this week's practices — partially due to the Labor Day break — but according to coach Al Troyer, players have looked more and more prepared by the day.
"We started out a little slow on Monday," Troyer said. "With it being it a holiday, we were getting them in here after eating barbecue and things like that, but the rest of the week as been pretty exciting. We're pretty upbeat after the win last week."
Troyer's squad relied heavily on its rushing attack in last week's win as a steady downpour drenched the field from start to finish. The numbers spoke for themselves, as the Chieftains racked up 231 yards and three touchdowns on the ground. Junior Cole Holloway accounted for 200 of those yards and all three scores.
With a high chance of rain on the bill for this week's contest, it's likely Holloway and company will continue that run-heavy trend against the Redmen.
THS will face an offense capable of moving the ball through the air, as well as on the ground. Atchison quarterback Tanner Huntington threw for 81 yards and two touchdowns and ran for 66 yards and a score in the Redmen's 46-6 win last week at Pleasant Ridge. Austin Housh added 69 rushing yards, Patrick Boos tacked on 35 more and each found the end zone once.
"We know Atchison is not going to be a pushover," Troyer said. "They have some athletes and they have some size. (Huntington) will take off and run, and they've got a slot back and a big, strong fullback they try to pound it in with."
The THS defense allowed 217 passing yards last week, but limited Lansing to minus-7 yards on the ground and forced three turnovers, including two interceptions by junior Jordan Boudreaux.
Both teams are looking to build on tough seasons in 2011, as Atchison went 3-6 and Tonganoxie went 1-8. The Chieftains may have a little extra incentive to win their second straight, as they followed up season-opening wins with narrow defeats each of the last two years.
"They're excited about the opportunity to go 2-0, but they know it's not going to be anything that's given to them. It's going to be a hard fight," Troyer said. "We talked all through the summer about how we just handle one game at a time. We're planning on Atchison and that's all we're focused on."
Friday's meeting will be the first between the non-league opponents since 2007, when AHS picked up a 42-20 win at Beatty Field.