THS

volleyball hangs on to beat Baldwin in five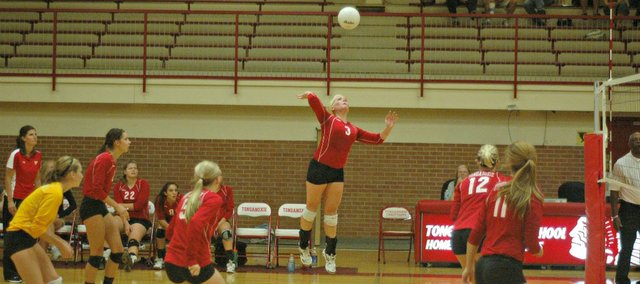 Photo Gallery
THS volleyball vs. Baldwin
The Tonganoxie High volleyball team held on for a five-set win over Baldwin Thursday at home.
Over the course of the young volleyball season, Tonganoxie High has already experienced lopsided victory and lopsided defeat. In Thursday night's home match against Baldwin, the Chieftains added a back-and-forth, grind-it-out battle to that list.
THS needed five sets and extra points, but held on for a victory over the Bulldogs, 25-19, 23-25, 25-22, 18-25 and 16-14.
"I was proud to see us finish a match against a scrappy team when we were not playing our best," coach Tiffany Parker said. "When we were not playing our best and they were playing probably some of the best volleyball they've played, we didn't quit when it wasn't going right."
After splitting the first four sets, the Chieftains (3-1) found themselves on the wrong side of a 6-3 score in the fifth. They slowly chipped away at Baldwin's lead and, by virtue of a 5-1 run, took a 12-10 advantage late in the set.
That prompted a timeout from BHS coach Jill Brown, which gave Parker a chance to give her team a few words of wisdom.
"I told them that we just need to compete and outwork (Baldwin)," she said. "We showed signs of competing and I was really proud that they put it all out there when it really counted."
The Bulldogs went on a 4-1 run out of the time out, giving them a match point opportunity, but THS scored the next three points to slam the door and clinch its third win of the season.
Parker's squad was firing on all cylinders in the beginning, as it sprinted out to a 20-11 lead in the first set. The Chieftains had trouble sealing the deal, though, as they needed six match points to end it and take a 1-0 lead. It looked as though they would take a two-set lead when they went up 22-19 in the second, but Baldwin closed the set on a 6-1 run to tie things up.
"If we don't compete from start to finish, anybody can take us," Parker said. "We handled them in that first set. We were on top of our game, and then it just kind of tapered off from there."
THS held off another late Baldwin run to take the third set, 25-22, but the Bulldogs had an answer in the fourth. They jumped out to a 15-9 lead and later forced a fifth set with a 25-18 win.
Senior Jenny Whitledge led the way with 18 kills while fellow seniors Olivia Hollingsworth and Madee Walker added nine and seven, respectively. Junior Marissa Martin had a season-high 16 digs to pace THS. Martin has reached double figures in that category in every match this season.
The Chieftains will play their first Kaw Valley League road match of the season when they travel Tuesday to Basehor-Linwood. The freshman teams will open competition at 4 p.m., followed by the junior varsity and varsity teams.
"We've been working on having fast-paced practices," Parker said. "We've still got to keep working on our competitive nature, but it's getting better. Kids are starting to step into their roles and they're gaining more confidence in what they're doing."