Chieftains blanked by Atchison in home opener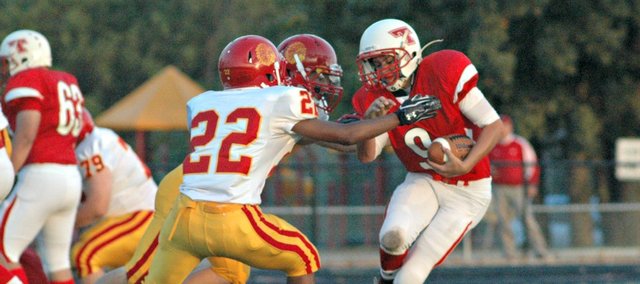 Photo Gallery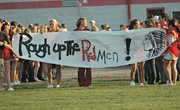 THS football vs. Atchison
The Tonganoxie High football team played host to Atchison Friday at Beatty Field. The Chieftains lost the game, 25-0.
A week ago, the Tonganoxie High football team showed how big it can be to score at opportune times. The Chieftains' fortunes were reversed Friday against Atchison, and it showed on the scoreboard.
THS (1-1) turned the ball over three times and failed to capitalize on numerous scoring opportunities in a 25-0 loss at Beatty Field.
"Our kids fought hard, but you've got to give it to Atchison," coach Al Troyer said. "They came out and smashed us in the mouth on both sides of the ball. We knew they were going to be quick and physical. We just didn't execute when we could have."
It looked as though the first quarter would end with no score, but AHS caught the Chieftains off guard with a fake punt on fourth down late in the period. That put the ball in the red zone, and Jered Ross gave Atchison a 6-0 lead with a three-yard touchdown run with just 24 seconds on the clock.
AHS doubled its advantage with 4:55 left until halftime when quarterback Tanner Huntington connected with Austin Housh on a 15-yard touchdown pass. When it was all said and done, Huntington threw for 117 yards and added 37 more on the ground to pace the AHS offense.
"He was a lot better athlete than we expected," Troyer said of the Atchison signal-caller. "He would get yards after contact and he did a good job getting around the edge."
THS failed to answer in the final minutes of the half and Atchison took a 12-0 lead into the locker room.
More fourth-down trickery led to another AHS score in the third quarter, as Ross threw a halfback pass to Wade Gassmann, who beat the defense for a 36-yard score with 4:43 left in the period. Huntington's two-point conversion attempt fell incomplete, leaving the score at 18-0.
THS looked to answer on the ensuing drive and found itself inside the AHS 10 thanks to runs of 35, 16 and 19 yards by junior Cole Holloway. However, the scoring chance went for naught when junior quarterback Tyler Ford was intercepted by Trevon Anderson.
"We drove the ball and got them on their heels, then it ended like that," Troyer said. "I think if we score on that first drive, it changes the outlook because it's 18-7 at that time."
The Chieftains got back into AHS territory on their next possession, but Ford was picked off once again — this time by Gassmann, who took it 69 yards for a touchdown with 7:36 remaining. THS drove all the way to the Atchison 5 later in the fourth quarter, but Atchison preserved the shutout by sacking sophomore Carl Hecht on fourth down.
Holloway, who amassed 200 yards a week ago, led the Chieftain offense with 94 yards on 22 carries. Fellow junior Shane Levy hauled in three passes for 51 yards — both team-highs.
Troyer's squad will return to Kaw Valley League action next week when it travels to Piper. The Pirates handed fellow KVL school Basehor-Linwood a 35-22 defeat on Friday.
"We've got to come back and learn," Troyer said. "I told them to be ready to get chewed out in film, but we're not done. We're still going to fight."
Score by quarters
AHS 6 6 6 7 — 25
THS 0 0 0 0 — 0
First quarter
AHS — Jered Ross 3 run (kick failed), :24
Second quarter
AHS — Austin Housh 15 pass from Tanner Huntington (run failed), 4:55
Third quarter
AHS — Wade Gassmann 36 pass from Ross (pass failed), 4:53
Fourth quarter
AHS — Gassmann 69 interception return (Huntington kick), 7:36
Rushing
AHS: Huntington 12-37, Ross 10-36, Housh 8-27, Patrick Boos 5-11, Weston Wood 2-5, Chris Rivers 3-5, Gassmann 1-(-4); THS: Cole Holloway 22-94, Tyler Ford 4-5, Shane Levy 1-(-3), Carl Hecht 2-(-11).
Passing
AHS: Huntington 11-22-0 117, Ross 1-1-0 36; THS: Tyler Ford 4-11-2 55, Carl Hecht 3-13-0 29.
Receiving
AHS: Housh 5-46, Boos 3-34, Gassmann 2-49, Ross 2-24; THS: Shane Levy 3-51, Brett Shelton 2-19, Jared Sommers 1-8, Ben Johnson 1-6.