Nearly 850 grandparents come to Tonganoxie for yearly tradition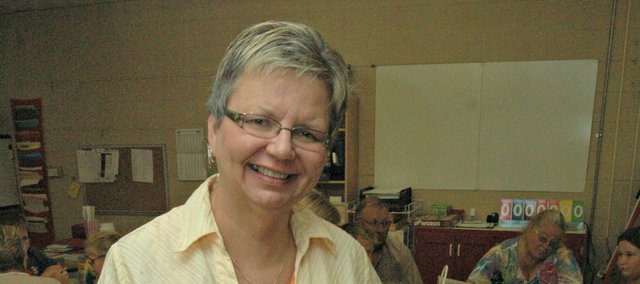 Trudy Reiss attended her eighth consecutive Grandparents Day on Friday after a lengthy jaunt from southwest Kansas.
Reiss lives in Plains, northeast of Liberal, about six hours away. At Tonganoxie Middle School, she saw grandson Keaton Rickard in the morning and at Tonganoxie Elementary School she visited granddaughter Kylie Rickard in the afternoon. Keaton is an eighth-grader at TMS and Kylie a fourth-grader at TES.
Reiss said she's always looked forward to the annual Grandparents Day. This year she was able to catch one of Keaton's football games while in town.
Roughly 500 grandparents and other family members visited TES on Friday, while nearly 350 visited TMS.
"You always stand in line to get in," Rickard said.
Another grandmother made a long journey for the first time for Grandparents Day.
Rose Magnussen traveled more than five hours from Sheldon, Iowa, to visit her granddaughter Morgan Magnussen, also a fourth-grader.
"It's a neat thing to be able to do for your grandchildren," Rose said. "I think it means a lot to them. It means a lot to me, too."
Grandparents joined with their grandchildren for classroom exercises.
Elementary school principal Tammie George said the Grandparents Day festivities were going on when she joined the district as a teacher nearly 20 years ago. She said aunts, uncles, cousins and parents also attend if grandparents aren't able.
George said a good indicator that it's Grandparents Day was in the TES lunchroom.
"They're bouncing in their seats," George said about students who were anticipating afternoon visitors. "You can just tell how excited they are."