Chieftain football suffers first
KVL

loss at Piper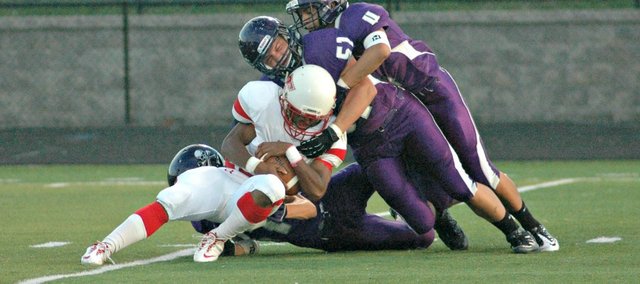 Kansas City, Kan. — For the second straight week, Tonganoxie was able to move the football. However, just like in the Chieftains' home opener, numerous turnovers and untimely penalties turned several drives into lost opportunities.
Three first-half giveaways set the tone early and THS wasn't able to recover in a 61-13 loss Friday at Piper.
THS (1-2, 1-1 Kaw Valley League) turned the ball over on two of its first three possessions — once on an interception and once on a fumble — which allowed the Pirates (2-1, 2-0) to jump out to a 20-0 lead at the end of the first quarter. PHS started its first three drives in Chieftain territory and cashed in with touchdowns each time.
"When you give them the ball three times inside the 20, they're going to beat you," coach Al Troyer said. "Our kids fought hard, but we just made a bunch of mistakes on both sides of the ball."
The Chieftains opened the second quarter with a 21-yard touchdown run from junior Cole Holloway, which made it 20-6. The defense promptly forced a fourth and long situation, but the Piper drive was kept alive by a roughing the punter call. The Pirates took advantage of the penalty when running back Matt McDonald scored on a 46-yard run later in the drive.
"I thought we got the momentum swing after we scored, but the roughing the punter was big," Troyer said. "We were going to get the ball in good field position and only down a score, then they just put it on us."
McDonald, who carried six times for 71 yards, found the end zone three times on the ground. He was one of four Pirate ball carriers to rush for more than 65 yards.
THS lost a pair of starters to concussions shortly before halftime. Junior Shane Levy, who had five catches for 96 yards, left the field under his own power following a big hit he took after a reception. Sophomore Ben Clark went down on a Piper punt return a few plays later and was taken off the field in an ambulance.
Clark was released from the hospital Friday night and both players have since returned to the team.
McDonald hit paydirt again midway through the third quarter, and Holloway scored his second touchdown of the night less than three minutes later. The Pirates capped off scoring with a pair of fourth-quarter touchdowns.
Holloway's two scores were part of a 25-carry, 70-yard performance. He now has 364 yards and five touchdowns this season.
The Chieftains will continue Kaw Valley League play at 7 p.m. Friday when they welcome Mill Valley to Beatty Field. The Jaguars are 2-1 following their 46-6 win Friday against Basehor-Linwood. Senior quarterback Skyler Windmiller had a combined six touchdowns — five rushing and one passing — in MVHS' win over the Bobcats.
"We'll just stay confident," Troyer said. "We've got a pretty good football team that we're going to keep building on, and we're not going to let them give us anything but their best."
THS suffered a 63-15 defeat to Mill Valley last season at Jaguar Stadium.
Score by quarters
THS 0 6 7 0 — 13
PHS 20 20 7 14 — 61
First quarter
PHS — Matt McDonald 4 run (Jose Mejia kick), 8:50
PHS — Paul Jones 4 run (kick failed), 6:27
PHS — Jones 57 pass from Tanner Eikenbary (Mejia kick), 1:08
Second quarter
THS — Cole Holloway 21 run (kick failed), 11:51
PHS — McDonald 46 run (Mejia kick), 9:26
PHS — Dalton Hays 80 interception return (Mejia kick), 8:16
PHS — Jones 20 run (kick failed), 1:48
Third quarter
PHS — McDonald 2 run (Mejia kick), 6:43
THS — Holloway 19 run (Eric Tate kick), 4:33
Fourth quarter
PHS — Maverek Dearinger 3 pass from Jack Rogers (Mejia kick), 11:52
PHS — Sterling Owens 8 run (Mejia kick), 2:51
Rushing
THS: Cole Holloway 25-70, Tyler Ford 9-1, Austin Ettinger 4-4, Maleak Gibson 1-6, Carl Hecht 1-5, Shane Levy 1-(-1), Jared Sommer 2-(-4); PHS: Paul Jones 9-80, Colton Beebe 4-72, McDonald 6-71, Travon Jones 11-66, Owens 2-28, Cliff Rangel 1-(-4), Rogers 1-(-4), Eikenbary 4-(-14).
Passing
THS: Tyler Ford 8-18-2 135, Carl Hecht 1-2-0 4; PHS: Eikenbary 5-14-2 124, Rogers 1-1-0 3.
Receiving
THS: Shane Levy 5-96, Jared Sommers 3-45, Cody Saladin 1-(-2). PHS: Paul Jones 2-98, Sean Eskina 2-18, Dearinger 2-11.