Chieftain soccer downs Mill Valley for seventh straight win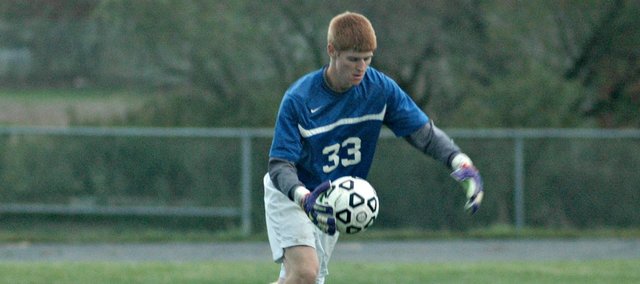 Photo Gallery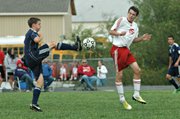 THS soccer vs. Mill Valley
The Tonganoxie High soccer team handed Mill Valley a 2-1 defeat Monday, extending its win streak to seven games.
THS 2, MVHS 1
First half scoring
Hugh Ebb (MV), 25:34
Matt Saathoff (TON), :49
Second half scoring
Asher Huseman (TON), 20:15
The performances haven't always been dominating and the games haven't always been pretty, but the Tonganoxie High soccer team keeps on winning.
For the second time in as many games, the Chieftains erased an early 1-0 deficit and held on for a 2-1 victory on Monday — this time against Class 5A Mill Valley — for their seventh consecutive victory.
"I expected that it was going to be long and it was going to be tight," senior captain Zack Tallent said. "It wasn't going to be a huge blowout; it was going to be a good, hard-fought battle."
The Chieftains (7-1, 5-0 Kaw Valley League) struggled to keep the ball away from their own goal early on, as the Jaguars controlled the possession for the majority of the first half. MVHS opened scoring when Hugh Ebb got a penalty kick just past the outstretched hands of senior goalkeeper Keaton Truesdell with 25:34 left in the first half.
"I know that Mill Valley is very disciplined and organized, and they're coached exceptionally well," coach Brian Kroll said. "I was anticipating that they would be a threat to control, especially from midfield forward."
It looked as though the score would remain 1-0 Jaguars until halftime, but senior Matt Saathoff got past the defense in the final minute of the opening period. He was awarded a free kick after being held by a Mill Valley defender, and his shot attempt ricocheted off the top post and into the net with just 49 seconds left on the clock.
Senior Luke Faherty nearly had an identical goal three minutes into the second half, but his shot bounced off the post and back into the field of play. A defensive struggle ensued, as both teams had a hard time creating scoring opportunities.
The Chieftains got another chance midway through the half when sophomore Asher Huseman found himself with the ball and nobody but the goalie between him and the goal. Huseman tried to cross the ball to Saathoff, but the ball found its way into the net with 20:15 left.
Mill Valley got several opportunities to tie the game in the final 20 minutes, but Truesdell came up with one big save after another to preserve the victory.
"The last 20 minutes weren't any different than the first 60 minutes," Kroll said. "Truesdell is in the zone right now. I have never seen him more committed to his sport and his team than he has been since day one of practice. It's a pleasure to be a part of it."
THS will try for its eighth straight win at 4 p.m. Friday when it takes on Maranatha Academy in non-league action at Rockhurst University in Kansas City, Mo.
"We've just got to stay focused in practice and keep our head," Tallent said. "We've got to take it game by game and just keep it going."