McLouth rolls by Christ Prep in homecoming victory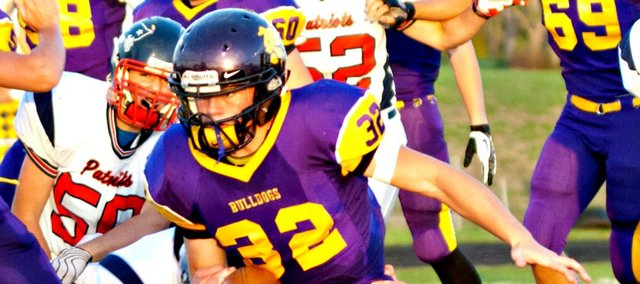 Photo Gallery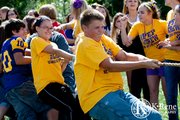 McLouth High homecoming 2012
McLouth High's 2012 homecoming festivities took place last week. The Bulldogs football team capped off the week with a 42-7 win against Christ Prep Academy.
The McLouth High football team got the homecoming performance it had hoped for, cruising to a 42-7 victory over Christ Prep Academy on Friday at Stan Braksick Sports Complex.
The Bulldogs, off to a 3-0 start for the second consecutive year, jumped out to a 22-0 lead at halftime and prevented any sort of comeback attempt after the break. Senior T.J. Crowell led the team with 15 carries for 156 yards and four touchdowns.
MHS opened scoring with a pair of first-quarter touchdown runs by Crowell. The Bulldogs' leading rusher hit paydirt from one yard out, then added a 24-yard score later in the opening period. Senior quarterback Marc Walbridge hooked up with junior Nick McAferty for a two-point conversion to give MHS a 14-0 lead at the end of the quarter.
The special teams unit got in on the scoring in the second quarter, when junior Drew Cerny returned a CPA punt 82 yards for a touchdown. Crowell scored on the conversion, making it 22-0 Bulldogs at the break.
The early momentum carried over to the second half, as Crowell opened the third quarter with a 73-yard touchdown run. Christ Prep answered with its only touchdown of the night to make it 30-7, but McLouth regained the momentum when Walbridge found McAferty for a 29-yard scoring strike.
Crowell scored the only touchdown of the fourth quarter on a four-yard run, giving him eight touchdowns in the last two games.
"I think he started out good an he needs to continue to develop," coach Chris Stewart said of Crowell. "I think he can do a lot more, but he's doing a good job right now. I also want to give credit to our offensive line. They're doing an outstanding job."
As a team, MHS racked up 481 yards of total offense. Walbridge, a fourth-year starter at quarterback, completed eight of nine passes for 182 yards with one touchdown and one interception.
"We haven't needed to throw a lot of passes, but we need to throw some just to keep our running game going," Stewart said. "We're just trying to keep it as balanced as we can."
Stewart's squad will close out non-league play this week when it travels Friday to Olpe. The Eagles (2-1) opened the season with a loss to Sedgwick, but have since won back-to-back games against Wellsville and Jefferson County North.
In the meantime, Stewart hopes to see improvement across the board from starters and reserves alike.
"We've got some things to work on still — carrying the ball and things like that, and a few penalties that probably shouldn't have happened," Stewart said. "I'd like to see some of our sophomores step up and do some things. They're doing a pretty good job, but there are some others who I'd like to see pick it up. We're going to need some more help as we get into our league play."