Police officer picked for
FBI

Academy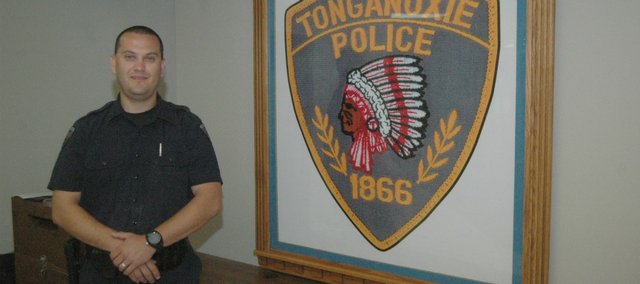 A Tonganoxie police officer soon will join a select group of law enforcement officials.
Billy Naff has been selected to attend the Federal Bureau of Investigation Academy in Quantico, Va.
Roughly 1 percent of law enforcement officials are accepted into the academy, according to Tonganoxie Police Chief Jeff Brandau.
Naff is eager to be part of that group.
"It's kind of a big deal," Naff said. "I'm excited."
Naff will head to the academy later this month and will be there for 11 weeks.
Brandau nominated Naff for the academy. Acceptance can take a few years, but Naff earned the nod after applying earlier this year.
"I'm pretty much one of the lucky ones," Naff said. "Fortunately for me, I was selected right out of the gate."
Officers who are accepted must go through background and physical fitness checks. Their body mass indexes also must be within a certain range, Naff said.
The 32-year-old Naff, who is a Lawrence High School graduate, will be the first person to attend the academy while serving in the Tonganoxie Police Department, Brandau said. Both Brandau and former chief Ken Carpenter went through the academy before joining the Tonganoxie force.
"It's a great honor and, plus, it's the ability to expand his leadership abilities because he's going to be in with officers from all over the world, not just the nation, and learn how they police," Brandau said.
The academy basically will finance Naff's expenses while there, including travel to and from Virginia.
As for replacing Naff while he's away, Brandau said other part- and full-time officers would work extra hours to fill the gap.
The FBI National Academy started in 1935 and has graduated nearly 46,000 law enforcement officers, including more than 3,200 from other countries. Women have accounted for about 1,850 of the graduates.