THS

football to continue league play vs. Mill Valley at home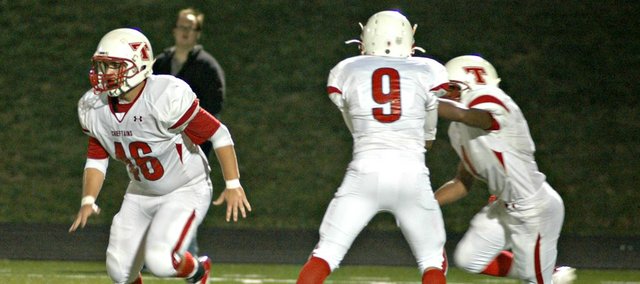 Following last week's 61-13 loss to Piper, The Tonganoxie High football team will continue Kaw Valley League play at 7 p.m. Friday. With Class 5A Mill Valley scheduled to pay a visit to Beatty Field, the road won't get much easier.
The Chieftains (1-2, 1-1 KVL) must face a Jaguar squad whose only loss of the season came against Class 6A Manhattan in the season's opening week. Since then, MVHS has blown by league foes Turner and Basehor-Linwood by a combined score of 103-13.
"They're a disciplined ball club and they execute well on both sides of the ball," THS coach Al Troyer said.
Quarterback Skyler Windmiller has led the Mill Valley offensive charge in 2012. The senior carried 20 times for 167 yards and five touchdowns in last week's win over Basehor-Linwood. He also chalked up 187 yards and a score through the air.
Through the Jaguars' first three games, Windmiller has accounted for 610 passing yards, 248 rushing yards and 12 total touchdowns.
The defensive game plan will likely be more of the same for the Chieftains, who have already faced multi-threat quarterbacks on more than one occasion this season.
"It's just like we did for Piper," Troyer said. "They had a real good quarterback that could run and throw. We're going to try to cut down on the zone read and keep the ball out of the quarterback's hands."
Windmiller has been prone to mistakes in the passing game, as he's been intercepted five times. That could mean good things for the THS defense, which picked off four passes in its first three games.
The Chieftains' offensive unit will have a different look this week, as the team will be without the services of junior Shane Levy. Levy, who has 11 receptions for 160 yards, will be out of commission after suffering a concussion last week. That will likely mean an increased workload for fellow junior Cole Holloway, who has 364 rushing yards and five touchdowns.
"We've kind of moved some people around to try to add some more speed at (Levy's) position," Troyer said. "We put in a few more packages this week to try to get Cole the ball and try to get him a little better look."
Sophomore defensive end Ben Clark will also sit out this week because of a concussion he suffered against the Pirates.
Mill Valley handed the THS a 63-15 loss last season in Shawnee. The Jaguars led by just eight early in the third quarter, but scored 42 unanswered points to kill the upset attempt. The Chieftains' last victory against MVHS came in 2006, when they picked up a 28-7 victory at home.