THS

volleyball splits in Meriden, shifts focus to home tournament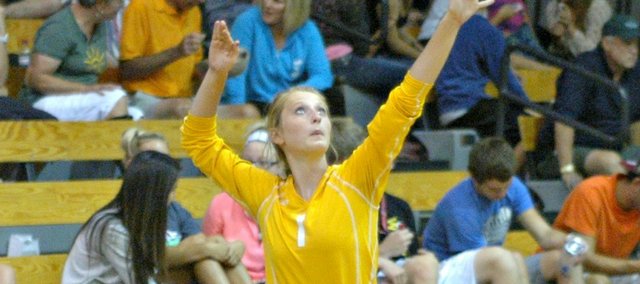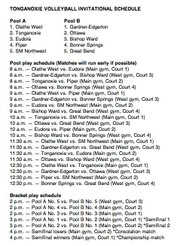 The Tonganoxie High volleyball team's up-and-down season stayed true to form on Thursday, as the team split a pair of matches against Jeff West and Pleasant Ridge in Meriden.
The Chieftains (7-6) swept Pleasant Ridge for the second time in as many weeks, winning by scores of 25-23 and 25-9. They couldn't replicate that success against Jeff West, though as the Tigers prevailed in three sets, 25-16, 20-25, 25-12.
Senior Jenny Whitledge had a combined 23 kills in the triangular, increasing her season total to 167. Junior Marissa Martin led the team with 13 digs and senior Madee Walker had a team-high four service aces.
THS will welcome nine teams to town on Saturday for the Tonganoxie Invitational. The tournament is broken into two five-team pools. The Chieftains are seeded second in a pool that includes top-seeded Olathe West, No. 3 Eudora, No. 4 Piper and No. 5 Shawnee Mission Northwest. The other pool is comprised of, in order of seed, Gardner-Edgerton, Ottawa, Bishop Ward, Bonner Springs and Great Bend.
Pool play will begin at 8 a.m. Tonganoxie's pool will play in the main high school gymnasium, while the other pool will play in the west campus gymnasium. The top two teams from each pool will advance to bracket play and the remaining teams will each play one additional match.
Tonganoxie will open its tournament schedule at 8 a.m. against Piper. Follow The Mirror on Facebook and Twitter for score updates throughout the tournament. Use the hashtag #MirrorSports to join the conversation on Twitter.