Chieftain volleyball finishes seventh at Tonganoxie Invitational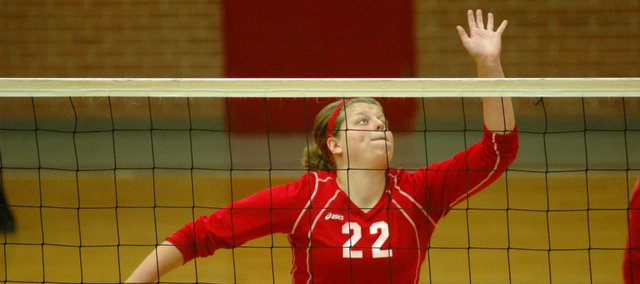 In a season that has already included several ups and downs — or, as coach Tiffany Parker calls them, peaks and valleys — the Tonganoxie High volleyball team continued its roller coaster ride on Saturday in the Tonganoxie Invitational.
THS went 2-3 in tournament play, good enough for seventh place out of 10 teams.
"When it comes down to it, a win is a win," Parker said. "It's always good for the ego to get a win. I wish we would have won a few more (Saturday), but I thought we had some kids that played pretty well."
Following a 1-3 showing in pool play — good enough for fourth place in Pool A — the Chieftains (9-9) squared off against Bonner Springs in the seventh-place match. BSHS had an identical record in Pool B and also finished fourth. THS led 16-13 in the first set, but Bonner Springs used a 5-0 run to go in front and scored the last seven points to win the set, 25-19.
The Chieftains had an answer, though, as they bounced back with a 25-14 win in the second set and clinched the match with a 25-15 win in the third.
THS opened pool play on a high note, downing Piper in straight sets, 25-18, 25-18. The Chieftains couldn't replicate the hot start in their remaining pool play matches, as they were swept by Shawnee Mission Northwest (25-22, 25-23), Eudora (25-16, 25-21) and Olathe East (25-15, 25-14).
"I think we're still learning how to finish matches," Parker said. "We've got some young kids on our team. We're still working on our energy level and our commitment to compete from start to finish."
Pool B champion Gardner Edgerton defeated Pool A champ Olathe East in the championship match. Both teams went 4-0 in pool play. Eudora swept Ottawa in the consolation match to finish third.
"It's nice to get some of these 6A and 5A teams in here," Parker said. "They're teams we don't usually see. There's no other time we're going to see teams like Great Bend or Ottawa other than in a tournament. It's nice to see other teams and other athletes. We're able to see if we're playing as well as we need to be playing."
Following the conclusion of the tournament, senior Jenny Whitledge was named to the All-Tournament Team. It was her second selection in as many seasons.
Tonganoxie will return to Kaw Valley League play on Tuesday when it pays a visit to Lansing. The freshman teams will start things off at 4 p.m.
Final team standings
Gardner-Edgerton (6-0), 2. Olathe East (5-1), 3. Eudora (4-2), 4. Ottawa (3-3), 5. Shawnee Mission Northwest (3-2), 6. Bishop Ward (1-4), 7. Tonganoxie (2-3), 8. Bonner Springs (1-4), 9. Great Bend (2-3), 10. Piper (0-5).
All-Tournament Team
Madison Maring (EUD), Courtney Will (OLA), Hannah Bettge (G-E), Lindsey Benson (OLA), Alazia Stanley (BON), Jenny Whitledge (TON), Jill Starling (G-E), Paige Weidner (OTT), Alexis Roecker (OTT), Marissa Round (OLA).
Best Defensive Player — Annie Beck, Eudora
Most Valuable Player — Cassie Wait, Gardner-Edgerton