Huseman shines as Chieftain soccer downs Eudora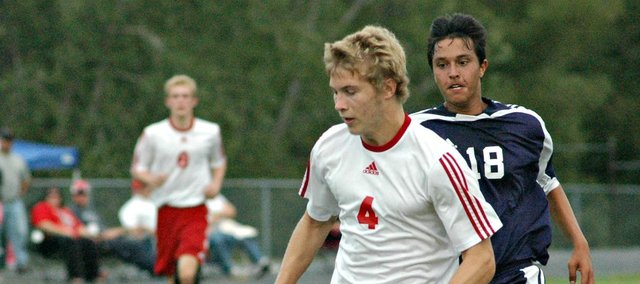 Photo Gallery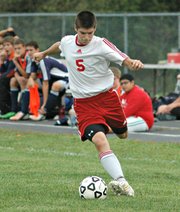 THS soccer vs. Eudora
The Tonganoxie High soccer team handed Eudora a 10-0 defeat on Monday for its ninth straight win.
THS 10, EHS 0
First half scoring
Matt Saathoff (TON), 36:42
Saathoff (TON), 34:48
Asher Huseman (TON), 34:14 (Saathoff assist)
Huseman (TON), 29:45
Huseman (TON), 23:08
Second half scoring
Huseman (TON), 27:07 (Saathoff assist)
Keaton Truesdell (TON), 26:31
Huseman (TON), 18:32
John Lean (TON), 14:53
Saathoff (TON), 13:43
Asher Huseman hasn't had trouble scoring this season. Entering Tonganoxie High's game Monday against Eudora, the sophomore had nine goals in the Chieftains' last seven contests.
When THS took the field against the Cardinals, however, Huseman played like he had something to prove.
Huseman finished the game with a team-high five goals as Tonganoxie handed Eudora a 10-0, mercy-rule defeat.
Senior Matt Saathoff, the team's scoring leader this season, drew first blood with a pair of goals less than seven minutes into the first half. Huseman took over from there, scoring three goals in a row to give the Chieftains (9-1) a 5-0 lead at the break.
"It's definitely comfortable when we get up," Saathoff said of the early cushion. "We can kind of relax from there and make plays happen. We've got something to fall back on in case something goes wrong."
Huseman opened second-half scoring with 27:07 left and senior Keaton Truesdell found the net less than a minute later to make it 7-0 Chieftains. Huseman's fifth and final goal came when he drilled the ball past the Eudora goalkeeper with 18:32 remaining.
"We're just finally figuring out how (Huseman) moves and how he works," coach Brian Kroll said. "We're hitting him in stride, and when you hit him in stride, he's deadly."
Senior John Lean scored his second goal in as many games when his shot attempt ricocheted off the goalie's hands and bounced over the line, then Saathoff put a shot through the legs of a defender and into the net.
Saathoff's third goal put the mercy rule into effect, ending the game with 13:43 remaining. Saathoff, who also had a pair of assists in the win, now has 16 goals on the season.
Freshman Alex Kroll started at goalkeeper and recorded his second shutout. It was the fourth shutout of the season for THS.
The Chieftains will have a quick turnaround before their next action, as they'll travel Tuesday to Perry-Lecompton. They handed PLHS a 5-0 defeat in their first meeting on Sept. 6.
"We can't underestimate them," Saathoff said. "After our last game, they're going to want to get revenge on us. After this victory, we can't take things lightly. We've got to get our minds set right again and get ready to play another match."