The Learning Center provides options for Tonganoxie families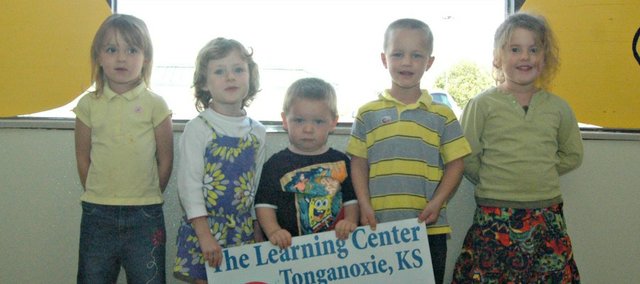 The Learning Center in Tonganoxie has allowed Katie Ussery to expand her business.
Ussery had offered in-home day care for about three years, but state regulations limited how many children could attend.
When she learned about a day care closing in a business center on Ridge Street, she contacted the owners and purchased the business.
Last spring, she opened The Learning Center in the former Kidz Can Be Kidz at 307 Ridge St. The business offers care to children 2 weeks old to children in kindergarten from 7 a.m. to 6 p.m.
"So many who commute need larger time space to get back from work," Ussery said.
When she offered in-home care, Ussery had between eight and 10 children. The Learning Center is licensed for 52 children and currently has an enrollment of 32. Eight teachers and two cooks are on staff.
"Each classroom has a teacher who meets Kansas state regulations," she said. "I require a little bit more of my teachers. I specifically hire people committed to offer early childhood education."
Ussery, who has worked in day care for more than 10 years, said The Learning Center also offers parenting workshops, as well as speech and occupational therapy services, health education and music classes.
"We are excited to offer more services, not only to kids, but to their families," Ussery said.
The Learning Center's phone number is 913-845-8405.