Tonganoxie to celebrate homecoming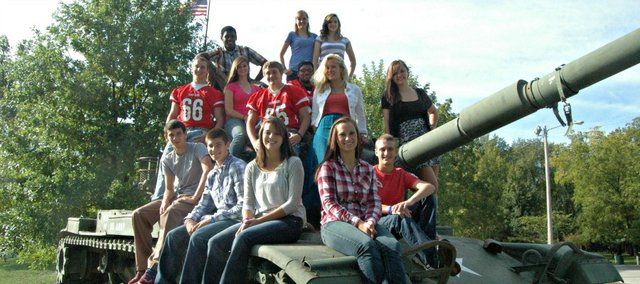 Homecoming week is here again for Tonganoxie High School.
Spirit Week festivities started Monday with Marvel Monday, the first of five dress-up days. Next up was Twin Tuesday, while today is Wounded Wednesday, Thursday is Throwback Thursday and the last day of homecoming is Red/White Friday.
Other activities are a bonfire at 8:45 p.m. Wednesday on the THS campus northwest of the skate park and the annual parade through downtown Tonganoxie, which will start at 2 p.m. Friday. This year's parade them is "Blow Away the Cyclones," as THS will face the Bishop Ward Cyclones in its football game Friday night.
Festivities continue with the Tonganoxie USD 464 Education Foundation having a reception from 3-5 p.m. at the Myers Hotel for this year's Education Hall of Fame inductees. This year's inductees will be W.J. "Bill" Stephenson Jr., Lee A. Smith, Wanda Mae Smith Robb and Shirley Beach Tice.
And later that night, Brady Field and Brooklyn Kerbaugh, last year's homecoming royalty, will return to crown this year's king and queen at 6:30 p.m. at Beatty Field. The hall of fame inductees will be recognized at halftime of the football game against Bishop Ward.
This year's queen candidates are Kelsi Briggs, Hannah Kemp, Jaycee Knipp, Hedvig Langehaug, Emily Minear, Jessica Sommers and Rachel Woods.
King candidates are Ty Barton, Julius Coats, Gus Dent, Luke Faherty, Tyler Hall, John Lean and Thomas Miller.
Homecoming week will conclude with "A Red Carpet Affair" homecoming dance from 8:30-11:30 p.m. Friday. Cost is $7 per person or $10 per couple.
— Gonzales, a Tonganoxie High School senior, is working as an intern for The Mirror this school year.