Chieftain football eyes homecoming win vs. Bishop Ward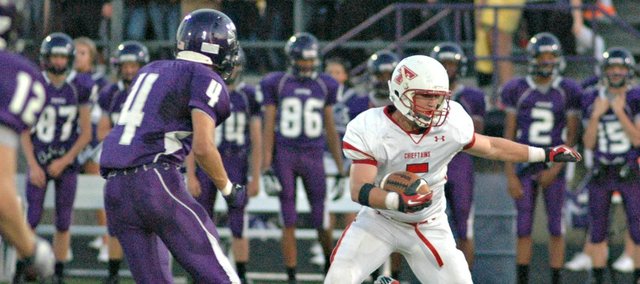 The last time the Tonganoxie High football team left the field victorious on homecoming, the current seniors were hadn't even begun their high school careers. When the Chieftains welcome Bishop Ward Friday to Beatty Field, they'll look to not only break that trend, but also get back in the win column for the first time since the first week of the season.
THS (1-3, 1-2 Kaw Valley League) will square off against the Cyclones (0-4, 0-3) at 7 p.m., and they'll do so in search of their first homecoming victory since 2008.
"We've been pretty relaxed this week, but we know we're going to have to come out and play hard to get a win this week," coach Al Troyer said. "It's going to be a pivotal game for us and for Ward also. We've got to try to get some momentum going into district play."
Friday's matchup features two teams that have fallen on hard times in recent weeks. Since winning its season-opener at Lansing, THS has been outscored by a 145-13 margin. That stretch includes a pair of losses to two of the KVL's top teams in Piper and Mill Valley.
Bishop Ward, on the other hand, has yet to break into the win column in 2012. The Cyclones haven't managed more than seven points in any game this year.
The Chieftains will once again have the services of junior Shane Levy and sophomore Ben Clark. Both sat out last week after suffering concussions on Sept. 14 at Piper. Their return could translate into bigger offensive numbers, as Levy has accounted for nearly all of THS' receiving stats this season.
In Levy's absence, THS managed just 122 yards of offense last week against Mill Valley.
"It sucked just sitting there and watching (last week)," Levy said. "We didn't have a good game against Mill Valley, but it's great to be back. I'm ready to play. We haven't won a homecoming game in a while. Against Bishop Ward, it's going to be a good crowd. We're just real focused."
The defensive line will also receive a boost, as Levy and Clark both saw significant time at defensive end in the Chieftains' first three games.
Added depth on the defensive front could pay dividends because, according to Troyer, the Cyclones will likely try to run the ball early and often.
"Ward is no slouch," he said. "They've got size, their quarterback is pretty good at running and their tailback is not too bad."
THS currently owns a two-game win streak against Bishop Ward. The Chieftains won big in each of the last two years, defeating the Cyclones 54-6 in 2010 and 34-6 in 2011. Both games were season-openers.