Rural Tonganoxie man gets life in prison for sex crimes against children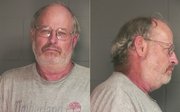 A rural Tonganoxie man has been sentenced to life in prison for child sex crimes.
Lawrence McDonagh II, 61, was sentenced on five counts of aggravated indecent liberties with a child Thursday in Leavenworth County District Court. McDonagh received sentences on four of the counts of life in prison without the possibility of parole for 25 years. In the fifth count, he received a sentence of 154 months in prison, with all sentences to run concurrently, Leavenworth County Attorney Todd Thompson said.
Four victims were involved in the five counts, with ages ranging from 10 to 15. McDonagh, a former manager of the Paradise Mobile Home Park near Tonganoxie, molested the youths between November 2009 and May 2012.
Leavenworth County Sheriff's officials said in May that they arrested McDonagh after serving a search warrant at the trailer park south of Tonganoxie. He was then charged with using a concealed camera to record three children while they were nude under circumstances in which the children had a reasonable expectation of privacy.