Ford leads charge as Chieftains down Bishop Ward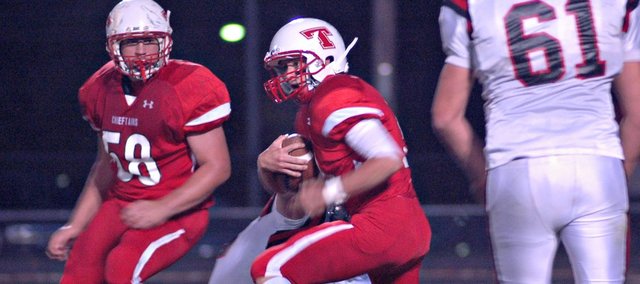 It had been a long time since Tonganoxie High won a homecoming game. So long, in fact, that Tyler Ford was just a few months into his seventh-grade year. But when Bishop Ward paid a visit Friday to Beatty Field, the Chieftains' starting quarterback made sure that streak came to an end.
Now a junior, Ford threw for 317 yards, ran for 87 more and accounted for three touchdowns as THS scored a 30-16 victory against the Cyclones. The homecoming win was the first for THS since a 14-7 victory against Prairie View in 2008.
"We knew we couldn't overlook this team," Ford said of Bishop Ward. "We came out with a lot of intensity and we got it done."
The Chieftains (2-3, 2-2 Kaw Valley League) had a chance to score on their opening drive, but turned the ball over on downs at the Bishop Ward 2. However, Ben Johnson intercepted Cyclone quarterback Bryan Barnhart on the ensuing drive and THS took advantage. Eric Tate fumbled at the 2 and the ball rolled into the end zone, where Cole Holloway dove on it for his sixth touchdown of the season.
Ford added another score when he broke free for a 55-yard touchdown run in the second quarter. The defense took over for the rest of the half and THS took a 13-0 advantage into the locker room at halftime.
Ford got it done with his arm in the third quarter, hooking up with Shane Levy for a 90-yard touchdown and Tate for a 32-yard score. When it was all said and done, Ford had completed at least one pass to a season-best five different receivers.
"All our receivers ran good routes," Ford said. "Everyone was open and our line gave me a lot of time. That's just a perfect combination."
Bishop Ward (0-5, 0-4) took advantage of good field position and came up with a pair of touchdowns in the fourth quarter. A bad snap on a punt gave the Cyclones the ball at the THS 4, and quarterback Bryan Barnhart punched it in a few plays later. Confusion on the ensuing kickoff backed the Chieftains up to their own 5, and Ford was later picked off at the 20. Barnhart found receiver Dylan DeGroot for a 20-yard score on the next play, making it 27-16 with 8:32 remaining.
That's as close as the Cyclones got, though, as Tate capped off scoring with a 33-yard field goal in the final minutes. The Chieftain defense forced a turnover on downs on Bishop Ward's final drive and Ford kneeled out the clock.
"The bad snap on the punt, that didn't help," coach Al Troyer said. "That got them a short field, then the kickoff that went over our head, we didn't know quite what they were going to do there. But we got in there and kicked the field goal. That put us up by two scores, so we were happy with that."
Levy, who missed THS' game against Mill Valley after suffering a concussion, hauled in a game-high six catches for 173 yards. Holloway added 109 yards on 24 carries to pace the Chieftains' ground attack. As a team, the Chieftains racked up a season-high 555 yards of offense, compared to just 106 for Bishop Ward.
Troyer's squad will travel on Friday to KVL foe Turner for its final game before district play. The Golden Bears have won three straight games, including a 28-22 victory last week at Basehor-Linwood.
"We say we've got three levels. We've got league, we've got district and then we've got the next level," Troyer said. "Everybody is counting us out and down right now, but we're not. We'll just keep on coming."
Score by quarters
Bishop Ward 0 0 0 16 — 16
Tonganoxie 7 6 14 3 — 30
First quarter
THS — Cole Holloway 2 run (Eric Tate kick), 2:25
Second quarter
THS — Tyler Ford 55 run (kick failed), 6:02
Third quarter
THS — Shane Levy 90 pass from Ford (Tate kick), 6:28
THS — Tate 32 pass from Ford (Tate kick), 1:34
Fourth quarter
BWHS — Bryan Barnhart 3 run (Charles Kump pass from Barnhart), 8:56
BWHS — Dylan DeGroot 20 pass from Barnhart (Barnhart run), 8:32
THS — Tate 33 field goal, 2:20
Rushing
BWHS: Trevor McClanahan 10-47, Barnhart 17-20, Kurt Jones 1-7, Lucas Gardner 2-3, Andrew Schneider 1-(-1), DeGroot 1-(-2); THS: Holloway 24-109, Ford 13-87, Levy 5-59, Jared Sommers 1-(-2), Carl Hecht 1-(-16).
Passing
BWHS: Barnhart 4-15-1 32; THS: Ford 14-21-1 317.
Receiving
BWHS: DeGroot 1-20, Schneider 2-7, Jared Paulakovich 1-5; THS: Levy 6-173, Tate 3-64, Brett Shelton 3-37, Ben Johnson 1-34, Sommers 1-9.