Bats silent in
THS

baseball's losses to Jeff West
Chieftains manage just five hits in 11 innings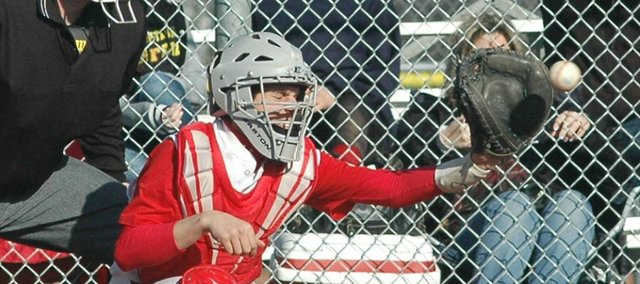 The wait finally came to an end for the Tonganoxie High baseball team when Jeff West paid a visit Monday for a doubleheader. Unfortunately for the Chieftains, cold temperatures seemed to set the tone for the season opener.
THS never managed to heat up at the plate as it was swept by the fourth-ranked Tigers, 7-0 and 16-1. The Chieftains managed just five hits between the two games and committed several costly errors that led to lopsided losses.
Sophomore Justin Wagner struggled early in the first game as Jeff West jumped out to a 3-0 lead with a three-run home run by Cole Woodyard in the first inning. THS had a chance to cut into the deficit in the bottom of the frame when junior Shane Levy hit an infield single and senior Cody Saladin was hit by a pitch, but both runners were left stranded.
Jeff West added another run on an error in the second inning, then blew the game open with a three-run homer by Brent Roberts in the fourth inning.
Junior James Grizzle, a new addition to the team this season, relieved Wagner after Roberts' home run. He kept the Tigers off the scoreboard for the remainder of the game, striking out four hitters while allowing just three hits over 4.1 innings.
"(Grizzle) came in and did a good job," coach Mitch Loomis said. "People made some plays behind him, but he threw strikes. That's the biggest thing. He was really, really good for it being his first time out on the varsity hill for us."
The Chieftain offense failed to capitalize on Grizzle's performance, as Levy's infield single remained the team's only hit until back-to-back singles by Grizzle and senior Brett Shelton with two outs in the seventh. The late scoring threat was squandered when Gus Dent grounded into a fielder's choice.
"It was probably a whole host of things, but we weren't very mentally tough at the plate," Loomis said. "We let a lot of good pitches go, and when you do that against good pitchers, you're really behind."
Offense wasn't any easier to come by in an error-plagued second game that ended after just four innings. Jeff West grabbed a 2-0 lead off junior Travis Woods in the first inning — one via a fielding error — and added one run each in the second and third to double its advantage. Sophomore Brady Swedo, who had the team's only two hits the game, got one back with an RBI double the bottom of the third.
Things came unraveled in a 12-run fourth inning, in which the Tigers sent 18 hitters to the plate. Thirteen of Jeff West's first 14 hitters reached base safely as THS allowed five walks and committed three errors in the inning. The Chieftains needed the combined efforts of three pitchers to get out of the frame.
"Errors are going to happen, but we've got to have somebody come up and made a great play to offset a bad play," Loomis said. "Our offensive firepower is not good enough to let that many errors to happen in an inning."
The game ended when THS went down in order in the bottom of the fourth.
Tonganoxie will hit the road for the first time this season when it travels Thursday to Class 5A Mill Valley. The Jaguars swept the Chieftains in a doubleheader last season.
"We've got to get better offensively," Loomis said. "We've got to really start with the basics and work our way up from there. Mill Valley isn't going to do us any favors. Then, our pitchers have got to put the ball over the plate. They'll be every bit as potent offensively, if not more than (Jeff West) was tonight."
Game 1
Jeff West 313 000 0 — 7
Tonganoxie 000 000 0 — 0
Leading hitters: Shane Levy 1-3; James Grizzle 1-3; Brett Shelton 1-3.
Game 2
Jeff West 211 (12) — 16
Tonganoxie 001 0 — 1
Leading hitters: Brady Swedo 2-2, 2B, RBI.