Mayors assist with delivery to help promote Meals on Wheels, Leavenworth County Council on Aging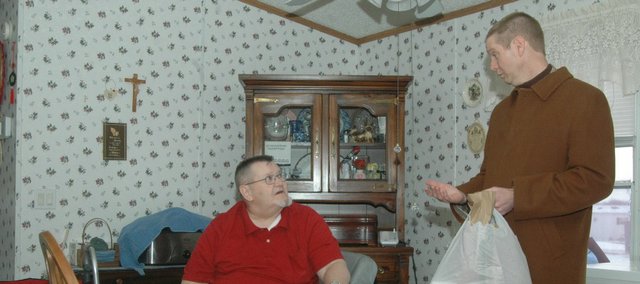 More information
<p>• Food is available through Leavenworth County Council on Aging. • To be eligible for meals delivered to homes, residents must be at least 60 years old and homebound. Spouses also are eligible. • Dining centers are available, including the Florence Riford Senior Center in Tonganoxie. • For more information, contact the Council on Aging, 1830 S. Broadway St., Leavenworth, 913-684-0777, or the Riford Center, 530 S. Bury, Tonganoxie, 913-845-2787.</p>
Bill Montgomery is fond of Mexican food.
"Six days a week and twice on Sunday, it would be Mexican food," Montgomery said about how frequently he'd like to eat his favorite food.
Luckily, chicken enchilada casserole is among the entrees that the Leavenworth County Council on Aging delivers to Bill and Pat Montgomery's Tonganoxie home. The county agency is part of Meals on Wheels Association of America, which provides meals to homebound senior citizens.
"It's great, " Bill Montgomery said. "I love it. It's really a wonderful program, especially for people who are disabled. And the food is good."
The Council on Aging delivers meals prepared by the Leavenworth VA Hospital to about 200 county residents each week day, according to Julie Stark, nutrition coordinator for the Council on Aging. Another 60 seniors each day eat meals at dining centers, including Tonganoxie's Florence Riford Senior Center, 530 S. Bury.
Last week, Tonganoxie Mayor Jason Ward helped deliver meals to seniors in Tonganoxie as part of Mayors for Meals and March for Meals. The annual campaigns help raise awareness about hunger among senior citizens. In 2012, more than 1,500 mayors and elected officials volunteered.
Ward delivered to five homes last week.
"I think it's very well-received," Ward said. "This was the second time I had done it as part of March with Mayors."
Ward said it was a "fantastic service" to the community.
"There's a lot of folks who need assistance every day," he said. "And when we participate in things like that, it really reminds us how we should look out for our neighbors and always lend a hand.
"I think Meals on Wheels does an exceptional job with that."
"I thought it was very exciting when the mayor came," Pat Montgomery said. "He was very friendly."
The Montgomerys started getting meals delivered to their home last August.
Requirements for receiving meals are that residents be at least 60 years old and be homebound. Bill has a spinal disease and recently underwent surgery on both of his knees. Spouses also are eligible to receive meals.
"They don't fool around," Pat said. "If you qualify for food, you have it."
There are about 20 meals that are rotated through on the menu, including orange glazed chicken, French toast pudding with lemon sauce, Italian blend vegetables and paprika baked cod.
There generally is a main item served with vegetables, fruit and a dessert.
Both Pat and Bill said they wouldn't mind larger portions, but they understand the need for certain portion sizes.
"When you grow up on meat and potatoes, you're just like that," Pat said.
Bill noted the serving sizes likely will benefit him.
"That's OK," he said. "I might actually lose a little weight and eat good food."
Federal, state and local aid helps fund the meals, as do donations from the community. About 55 volunteers deliver meals. There are also six people who drive county vehicles for the longer routes, some up to 100 miles a day. In addition to Leavenworth, meals are delivered to other cities, including Tonganoxie, Basehor and parts of Bonner Springs.
Stark said the Council on Aging asks for $1.50 per meal donation from seniors.
"Gas prices and food costs are going up and funding levels remain flat," Stark said. "We rely on all those means of income to keep the program up and running so we can serve everyone who needs a meal."
The program provides more than a daily meal.
People who deliver meals also interact with the seniors and check on their well-being. For instance, Stark said drivers check with seniors about whether their heating or cooling units are operating properly.
"It's a whole lot more wrapped into it," she said.
Pat said she appreciates the efforts of drivers who deliver their food.
"Everybody has always been friendly and willing to come up our ramp," she said, referring to the handicapped access to their home. "We try to meet them outside."